Episode 61 turns the microphone on  David G, host/producer of Here's Tom With The Weather podcast. What books would he read if stranded on a desert island? I know - finally, we find out. If you're out of the loop, this is a question asked of each guest on a show that invites everyone to table to critique, celebrate or contort AA's higher power steps. We get to know from sufis, scientists, gurus, rabbis, atheists, priests, writers, elders, scholars and other people in recovery, what book is their must-have if stranded on a desert island. And David future trips with Rebellion Dogs fans; how will history look back at turning points in AA history? Is online-becoming mainstream AA the dawn of a new era? Let's ask David who thinks this is it, baby: Zoom reduces barriers and connects people better than a, or "the" book ever could.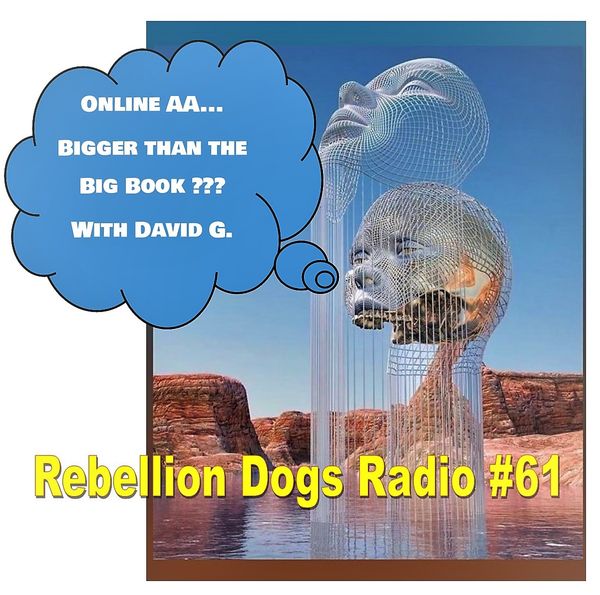 What will history record, as the biggest game-changer in peer2peer support for people with alcohol and other substance use disorders? Was it a Big Book, or something bigger? 
Is the breakthrough in connecting the still suffering with effective mutual support to be defined by history as this era - the normalizing of online recovery meetings?
What did the book Alcoholics Anonymous aim to do? Ostensibly the aim was to bring comfort to the inflicted when and where there is a barrier to personal connection between themselves and fellow sufferers.  The question posed today is, "Now that we are bringing peer2peer comfort - via AA and other online mutual-aid groups - does the Zoom meeting connect people better than a book, better than any book? 
Host of Here's Tom With The Weather Podcast, David G has written an article for Rebellion Dogs through the voices of connected alcoholics around the world about Zoom AA [click to read below]. On Episode 61 of Rebellion Dogs Radio, David talks about how the community centre meeting closures spurred by a pandemic, led to widespread replacement-meetings of Zoom AA. The alternative became normative and now AAs connect online for recovery. Now, we ask, "Is Online-AA here to stay; is it delivering Connection, Hope, Identity, Meaning and Empowerment* to more, less or the same number of people? Are there fewer barriers, to finding connection online than from reading a books or face-to-face meetings that so many can't wait to get back to? 
David's Zoom journey has been global, clocking in the requisite 10,000+ hours. It's worth listening to what someone with unmatched experience has to say. In our hour together on Rebellion Dogs, around the globe trip, there's a Nova Scotia reference; so today's musical feature will be the East Coast's Andre Pettipas and the Giants with their June 2021 pandemic release, "Homesick." 
For show notes and/or to download/reading/streaming
read David G's essay, "The Second Coming of Alcoholics Anonymous"

*C.H.I.M.E. is an acronym referred to by David Best in Pathways to Recovery and Desistance: the role of the social contagion of hope previously covered in Rebellion Dogs Radio #48
Next up on Rebellion Dogs Radio, we hear again from Dr. Joe Nowinski. He has a new book, which we got to review in development,  Recovery AFTER Rehab: A Guide for the ewly Sober and Their Loved Ones. He wrote the book on 12-Step facilitation(TSF) for professionals helping people with addiction. This is like an owners manual to navigate recovery life with advice and science of what improves outcome rates.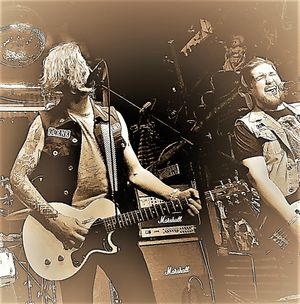 We go out with music created in the Pandemic. David mentioned visiting an AA group in Eastern Canada on Zoom. This is Andre Pettipas and the Giant with a June 2021 release for all of you missing your f2f home-group; the song is "Homesick."
And now we know... If all of David G's worldly possessions were sinking on a yacht and he could only grab one book, protect it in a zip-lock back and swim with it to a desert island to hope for and awaiting rescue, what book would David G want as his his lone companion? Well, he chose two:
THE ROAD, No Country for Old Men author Cormac McCarthy's post-apocalyptic America novel. David G just loves this man's reading. 
I AM THAT, Nondualism (Shiva Advaita philosophy by Sri Nisargadatta Maharaj, a Mumbai Hindu spiritual teacher who influenced many American pop-psychology icons.
Finally, the whole context of "Here's Tom With the Weather by Bill Hicks: YOU TUBE