The following are notes, sometimes expanded and sometimes the same as the script for Rebellion Dogs Radio show # 24 Courage to Change.

Read away or if you want to just listen,click here:

If you prefer to read from a PDF (online or print yourself) CLICK HERE

As is the season, let's visit AA's annual membership survey as reported in the Summer Box 4-5-9. Let's take inventory of current events and take AA's pulse. While not all of us will be alive to see it, AA's 100th anniversary is 19 years away. What are we doing right; what ought we alter or improve to ensure we have a centennial? 

Here is AA's own accounting of members at January 1, 2016:
 
| | | |
| --- | --- | --- |
| Location | Members | Year over Year |
| World-wide | 2,089,698 | +2.4% |
| USA | 1,262,542 | -1.7% |
| Canada | 85,530 | -5.0% |
| Non-Can/USA | 705,850 | +11.7% |
| Loners/others | 66 | - |

From January 2014 to January 2015, we saw an overall drop in AA population of 5%. That year, USA membership limited the losses. This year, American membership is down 1.7%. This time last year we saw Canadians behaving about the same; this year's 5% drop followed a 4% decline in Canuks in AA the previous year. Internationals have seen dramatic fluctuation; two years ago non-USA/Canada members were down 13% and this year Internationals are up almost 12%. 
For perspective, by AA's own accounting, our membership exceeded two million for the first time in the early 1990s. We've been up and down since, sometimes dropping below two million and peaking at 2.2 million in 2002. 
Rebellion Dogs has sometimes compared AA membership to the larger recover community. From DrugFree.org we heard this in 2012: 

"New York, NY, March, 6 2012 – Survey data released today by the Partnership for Drug-Free Kids and The New York State Office of Alcoholism and Substance Abuse Services (OASAS) show that 10 percent of all American adults, ages 18 and older, consider themselves to be in recovery from drug or alcohol abuse problems. These nationally representative findings indicate that there are 23.5 million American adults who are overcoming an involvement with drugs or alcohol that they once considered to be problematic." 

This survey of Americans in long-term recovery rose 15% (from 20 million to 23.5 million from their previous survey). Last year, Rebellion Dogs looked at demographic data from the turn-of-the-century book, Bowling Alone: Collapse and Revival of American Community. We saw that AA's treading water in population numbers is head-and-shoulders above other organizations ranging from religions losing adherents, professional associations not attracting their peers and even the American Bowling Congress members and bowling alley attendance. Information without context is easy to misjudge but it's also hard to find exact apples to apples comparisons for AA. 

If you buy the adage, "If you're not growing your dying," AA's population dormancy is concerning. Maybe not today, but when we look at the road to AA's 100th birthday in 2035 will we be a viable, relevant society in 19 years? There are many, too, who dismiss the data as unreliable or having negligible predictive qualities. 
At the time of composing this blog/podcast, June 2016, some USA political surveys show the democratic favorite, Hillary Clinton and the expected Republican nominee, Donald Trump neck-in-neck with each other. Others say that because this data is from surveys of people who still use a landline phone—which may indicate an older, more conservative population that the general electoral population—poles aren't reaching the younger mobile phone users. 

The recent Canadian federal election outcome wasn't predicted by pollsters. While a tight three-way race between incumbent Conservatives, Liberals and New Democrats was billed for the 2015 election, the Liberal majority left prognosticators in damage-control mode. The polestars were wrong by a large margin. 



What does this have to do with AA? This idea of a shrinking AA, at least in traditional face-to-face meetings, does not fly in the face of our everyday observations. I was just listening to Vic L. from New York City and John S. from Kansas City comparing notes on aaBeyondBelief the Podcast and both NY and KC meetings aren't as populous as they once were. Here in Toronto, there was a time in the 1980s and 1990s that there we dozens of meetings that drew hundreds, downtown and in the burrows. These same groups that attracted hundreds, today draw dozens—not hundreds. So, like the bowling alleys and churches of years ago, at least from a casual gaze, AA isn't as big in the USA and Canada as it once was. 

But like the polestars of elections maybe there are others who count themselves as part of AA but aren't included in our meetings. I spend a lot a more time listening to podcasts and reading memoirs and reading blogs written by AA members about addiction, recovery and AA life than I spend in meetings. How many others are spending more time sharing recovery online instead of going to community centres or church basements to get their AA fill? It's just something to think about. 

So, it's an interesting question as to how well AA's annual poling systems captures the overall membership. The one thing that the annual survey affords us is a comparison between AA internal numbers one year with the same methodology of the next year. The actual numbers may not be 100% accurate but hopefully the up and/or down trending is an accurate depiction. 

Here's another quasi means of measuring AA engagement. The Fall Box 4-5-9 reported over 57,000 AA's and Alanons were in attendance in Atlanta in 2015 for AA's 80th birthday. This marked an all-time high for AA convention attendance. 

Back in '85 I attended my first in Montreal and 45,000 AAs were there. Ten years later, the numbers increased to 56,000 in Seattle (1995). Convention attendance dropped in 2000 in Minneapolis to 47,000 and dropped more in Toronto with 44,000. Then we climbed to 53,000 in San Antonio (2010) and we were on the increase again in Atlanta, again hitting 57,000+, a record. So is convention attendance indicative of AA's overall size? I am sure it's a clue. We do see that every 20 years when the convention moves from USA to Canada, there's a dip in attendance. Perhaps American members who don't have a passport or suffer from criminal records can't make it to Montreal, Toronto or Vancouver. (SEE TRANSCRIPT FOR GRAPHS and DETAILS).
 
Going back to the annual numbers, what does the double digit increases and declines in the last two years mean for non-USA/Canada members? I am sure AA issues have a unique impact in India, which wouldn't be felt in the UK or vice versa. Germany compared to Japan, Australia vs Ethiopia, regional AA comes with its own issues with attraction rather than promotion. 

But at least this year we see that—if more is better—International AA is carrying the load while Canada and the USA are declining in membership. And while AA is never on a membership drive, we want to meet the need. We want to eliminate barriers and build bridges. 
AA: An Interpretation For the Nonbeliever (Hazelden)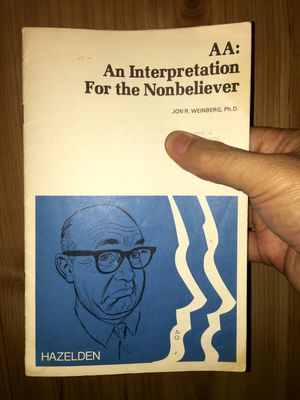 Jackie B of Recovery Works Theater from San Francisco was one of last episode's guests: Rebellion Dogs Radio #23. This just in: She asked for my mailing address and I gave it to her and what came of it? I got this out-of-print Hazelden pamphlet, AA: An Interpretation For the Nonbeliever by Dr. John R. Weinberg. How great can friends be? Thank you Jackie B. 

So, I did some research on it because I wasn't to recommend it to you all. I'll keep looking but I think it's been mothballed. I did find and buy The Twelve Steps of Alcoholics Anonymous: Interpreted by the Hazelden Foundation and I hoped it would include psychologist, Jon Weinberg. Sadly, the 1993 publication passes on the earlier contributions of Weinberg's secular view including his 1975 pamphlet about AA and directed to both the medical community and prospective 12-Step members. 

Here's something from the Hazelden interpretations that I could buy online. It's by Karen Elliott, Former Director or Hazelden Educational Material who is best known to our community by the pen-name Karen Casey who wrote Every Day a New Beginning, Worthy of Love and coauthor of The Promise of a New Day. So here's what she says in the 1993 introduction: 

"Hazelden has intentionally selected several voices to share their interpretation for the Steps, because a guiding principle of the Fellowship is that we should 'take what fits and leave the rest.' In other words, no individual speaks for a group or the organization as a whole. Each of us, in our search for spiritual, emotional, and mental health, must decide for ourselves how to apply the principles of the program in our lives. The application of a Step for one may differ, significantly on occasion, from an application that is meaningful to someone else." 

That's from the 1993 Hazelden collection of interpretations which includes Mel B, and other AAs + a PhD in Pastoral Theology and chemical dependency professionals. 

There is one especially poignant statement in the booklet Jackie sent me that is a shout out to everyone—Intergroup, GSO, you, me—everyone who wants AA to thrive in unity, service and recovery. 

Ernie Kurtz would reference Jon Weinberg's work in Not God: A History of Alcoholics Anonymous so if you've read Ernie, you know or at least have been influenced by Weinberg. So, here's some samples from by Jon R. Weinberg PhD, Hazelden Foundation Inc., 1975 AA: An Interpretation For the Nonbeliever
 
"Contrary to what many professionals believe, the 12 Steps of AA are suggested, not mandatory. The only requirement is a desire to stop drinking. Individuals are free to interpret and practice the steps as they wish, if at all. However, since AA is basically a way of life rather than a social club, the 12 Steps serve as a framework upon which most successful members build their new existence. … many of the reservations about AA from both professionals and new or prospective members center on the content of the steps. Therefore, each step will be briefly analyzed from the authors viewpoint, which is secular and psychological, with the hope that other professions may utilize the approach comfortably with their clients if it is acceptable to themselves." (p4) 

Step 3 

In simplest terms, Step 3 means doing we should do rather than what we want to do. While this approach may be highly desirable for all people, it is often a life-or-death matter for the alcoholic. There will be innumerable times during recovery when he or she will want to drink, and only a strong commitment to what should be done, i.e. abstain regardless of circumstances, can prevent a relapse. … To summarize the first three steps, then, the alcoholic accepts his problem, i.e. falling victim to an incurable disease which is severely impairing his functioning; believers there is a partial remedy, i.e. a recovery program which fosters sane living; and decides to follow the program, i.e. commits himself to doing as he should. We how turn to the mental health aspects as found in the other nine steps of the program. 

Under Typical Criticisms of AA: 1) AA is a substitute dependency, 2) AA is too religious, 3) AA is too rigid, 4)
AA members are fanatic, smug, outspoken or otherwise obnoxious and 5) AA is prejudiced against professionals, in all of these rebuttals to objections, Dr. Jon Weinberg makes sound counter arguments with a compassionate understanding as to how any professional or prospective AA member might draw these conclusions. Under "AA is prejudiced against professionals Weinberg articulates the plight of identity politics.

In the mid-70s, for sure and maybe it's the same today, alcoholics often faced condescension, moralizing and righteous indignation from both loved ones and professionals.  What got the most visceral reaction from me in what Wienburg wrote in 1975, was this short discussion as to why AA's or practicing alcoholics might feel fed up with the medical profession. As you're reading this passage below, maybe you will see similarities, as I did, with the non-theist in AA today and the attitudes of what the Spiritual Appendix describes as "our more religious members," as well as those in the service structure to which we've been asking for accommodation by means of a larger voice in AA literature whereby atheist/agnostic speaks to atheist/agnostic. 

Check this out from page 12 of AA: An Interpretation For the Nonbeliever: 

"Bigotry is almost invariably a two-way street. When some minority group is discriminated against, whether due to race, religion, ethnicity, age, or stigmatized illness, that group tends to become hostile in a biased fashion toward all those labelled, 'oppressors'. Alcoholics have not been accorded dignity, respect, and competent treatment by society as a whole, but professions entrusted with their care bear a special burden of responsibility for the systematic maltreatment and non-treatment, overt and disguised rejection, that historically has been the rule rather than the exception. Even though the climate appears to be gradually changing as professionals become enlightened, it may be a long time before an alcoholic can be reasonably confident that any given professional understands the illness, accepts its victims, and is competent to participate in its treatment."

The booklet goes on to discuss why AA is effective with emphasis on the Fellowship, implications for professionals and Alanon are also discussed. 

For all this and a complete transcript of Rebellion Dogs Radio #24, Courage to Change which, at the time of recording looked ahead to the Human Rights Tribunal case in the Ontario Human Rights Tribunal. We look at actions and the equally tragic flaw of inaction committed by Toronto Intergroup and AAWS. We draw from a fiction writer and biologist to look at how, from religion to science, dogma builds walls and walls are the sign of society that loves inaction.

FULL PDF TRANSCRIPT CLICK HERE

Thoughts from Bill W:
"Let us never Fear needed change. Certainly we have to discriminate between changes for the worse and changes for the better. But once a need becomes clearly apparent in an individual, in a group, or in AA as a whole, it has long since been found out that we cannot stand still and look the other way. The essence of all growth is a willingness to change for the better and then an unremitting willingness to shoulder whatever Responsibility this entails." Bill W. A.A. Grapevine July 1965, As Bill Sees It p. 115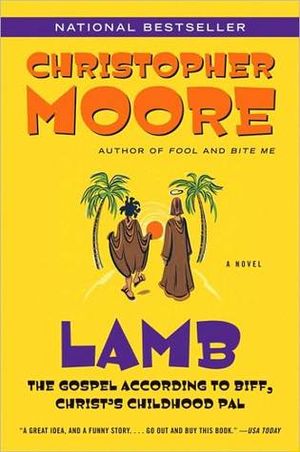 Fictional musings from Christopher Moore's Lamb: The Gospel According to Biff, Christ's Childhood Pal: 

We were twelve days into our journey, following Balthasar's meticulously drawn map, when we came to the wall. 

"So," I said, "what do you think of the wall?" 

"It's great," said Joshua [According to "Biff" the real name for Jesus 2000 years ago was Joshua. That's what everyone called him, then]. 

"It's not that great," I said. 

There was a long line waiting to get through the giant gate, where scores of bureaucrats collected taxes from caravan masters as they passed through. The gatehouses alone were each as big as one of Herod's places, and soldiers rode horses atop the wall, patrolling far into the distance. We were a good league back from the gate and the line didn't seem to be moving. 

"This is going to take all day, "I said. "Why would they build such a thing? If you can build a wall like this, then you ought to be able to raise an army large enough to defeat any invaders." 

"Lao-tzu built this wall," Joshua said. 

"The old master who wrote the Tao? I don't think so." 

"What does the Tao value above all else? 

"Compassion? Those other two jewel things?" 

"No, inaction. Contemplation. Steadiness. Conservatism. A wall is the defense of a country that values inaction. But a wall imprisons the people of a country as much as it protects them. That's why Balthasar had us go this way. He wanted me to see the error in the Tao. One can't be free without action." 
"So he spent all that time teaching us the Tao so we could see that it was wrong."
 
"No, not wrong. Not all of it. The compassion, humility moderation of the Tao, these are the qualities of a righteous man, but not inaction. These people are slaves to inaction." 

"The magus wasn't teaching us about action in work, it was action as in change. That's why we learned Confucius first—everything is like the Torah, rules to follow. And Loa-tzu is even more conservative, saying that if you do nothing won't break any rules. You have to let tradition fall sometimes, you have to take action, you to eat bacon. That's what Balthasar was trying to teach me." 

I've said it before, Josh—and you know I love bacon—but I don't think that it is enough for the Messiah to bring bacon." 

"Change," Joshua said. "A Messiah has to bring change. Change comes through action. Balthasar once told me, 'There has never been a conservative hero.' He was wise, that old man."

LISTEN TO THE WHOLE REBELLION DOGS RADIO SHOW
Steam on Pod-0-Matic CLICK HERE
Stream or download on Soundcloud CLICK HERE
Go to Rebellion Dogs Radio Page CLICK HERE


Notes:
May 31st, 2016 Toronto Intergroup released their filed defense against charges of discrimination and harassment, contrary to the Ontario Human Rights Code. To view Intergroup's defense CLICK HERE for a PDF.

Elliott, Karen, The Twelve Steps of Alcoholics Anonymous: Interpreted by the Hazelden Foundation, Center City: Hazelden Publishing, 1993 
Weinberg, Ph.D., Jon R, AA: An Interpretation For the Nonbeliever, Center City: Hazelden Foundation Inc., 1975
http://www.drugfree.org/newsroom/survey-ten-percent-of-american-adults-report-being-in-recovery-from-substance-abuse-or-addiction/ 
http://www.aabeyondbelief.com/2016/06/05/vic-l-and-secular-aa/