PRACTICAL AA (irreligious  readings and audio from Alcoholics Anonymous) 
Maybe it's because of the name of the book, Alcoholics Anonymous, that people associate the first written account of AA experience as "the basic text," "the official AA program" or inseparable from sober life in AA. The Big Book as it's called by many, has sold over 40 million copies. 
News Flash: AA has other million-selling books; Alcoholics Anonymous is neither the official nor sacred text of modern AA life.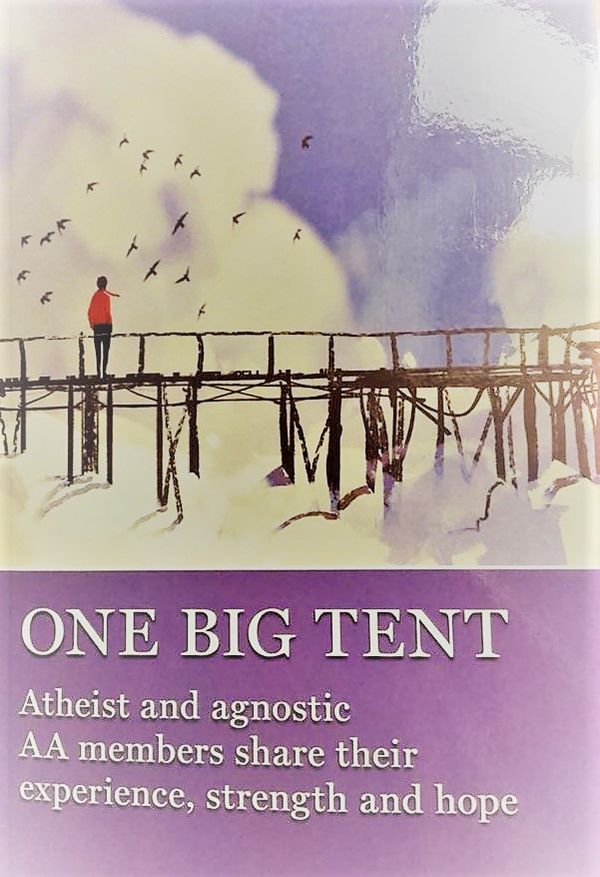 John F Kelly (Harvard Medical School), Keith Humphreys (Stanford University) et al conduced a systematic review (Cochrane Library Data Base 2020) including randomized controlled clinical trials involving over 10,000 cases of alcohol use disorder (AUD) and found that AA and Twelve Step Facilitation (TSF) performed as well or better in comparison to other clinical interventions (Motivational Enhancement Therapy and Cognitive Behavioral Therapy)[i] If you want AA's evidence based peer support and proven ways to stop and stay stopped, and you do not wish to embrace theology to do so, here is your starter reading list of conference approved AA literature: 
Living Sober (2019, first printed in 1975) "There is no prescribed A.A. right way or wrong way. Each of us uses what is best for themselves—without closing the door on other kinds of help we may find valuable at another time. And each of us tries to respect others' rights to do things differently." Click LIVING SOBER (above) to read or listen for free to this 32-chapter booklet of practical experiences that have worked for (at the time of printing) 100s of thousands of members. Living Sober[ii] has sold over 7 million copies. 
The "God" Word: Agnostics and Atheists in AA (2014). "I haven't had a drink for 25 years, and I am no longer waiting for my religious conversion. I am still an agnostic. I don't know whether or not there is a supernatural power, but I don't believe that there is, and having a few years of sobriety behind me gives me the confidence to be open about my lack of belief." Now available in English, Spanish and French this is a collection of ten stories or irreligious approaches to AA. Click The "God" Word above[iii] to read or download for free. 
One Big Tent: Atheist and agnostic AA members share their experience, strength and hope (2018) "I opened a meeting directory, after finally admitting to myself that I had a problem and needed help. I found a meeting called "We Agnostics," located directly across the street from the liquor store that I would walk to at night when I wanted more booze. … In the Grapevine was an article that mentioned a woman who had remained sober 40 years using the Fellowship as her higher power. Forty Years!" Click ONE BIG TENT[iv] for an Amazon page to the AA paperback and Kindle edition. The booklet is a collection of stories from 1960 to 2016 from secular AA members. Upon notice of printing, One Big Tent became the most pre-ordered book published by A.A. Grapevine (AA's meeting in print since 1946)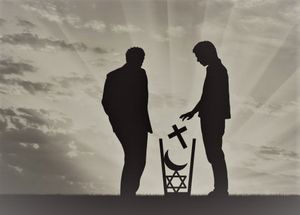 This blog offers some practical, modern, secular (neither religious nor irreligious) offerings that are  as legitimate, as official documentation of the AA way of life as ye olde Big Book of AA. Loved by many, this first effort was written by one person, informed by his personal transformation—a white light conversion experience—which Bill W thought at the time was a key to overcoming the relentless desire to drink. It was clearly a motivational factor for him. The reason that some call AA a "religious program" is that this first book mentions "God," "Power Greater than Ourselves," "Czar of the Universe," "Creator," "Heavenly Father," 200 times in the first 164 pages. That's a lot of theology. 
AA's first literary offering was started when Bill was sober only a couple of years and based on his observations of dozens of members. A couple of years after it was published Bill shared what he had learned since and it was added to Alcoholics Anonymous as Appendix II "Spiritual Experience:" 
"Among our rapidly growing membership of thousands of alcoholics, such transformations [religious experiences], though frequent, are by no means the rule. Most of our experiences are what the psychologist William James calls the 'educational variety' because they develop slowly over a period of time. Quite often, friends of the newcomer are aware of the difference long before they are themselves. They finally realize that they have undergone a profound alteration in their reaction to life; that such a change could hardly have been brought about by themselves alone. What often takes place in a few months could seldom have been accomplished by years of self-discipline. With few exceptions our members find that they have tapped an unsuspected inner resource."[v]  
The above quote is page 567, so some may closed the Big Book, feeling excluded from AA as someone with spiritual beliefs outside of the Judeo/Christian faith or no supernatural beliefs at all. As an atheist in AA who finds my sobriety in AA is not at the expense of my integrity to my value system, I can tell you that there is a healthy irreligious (skeptics/freethinkers/non-believers) population, some of which belong to atheist and agnostics AA groups. 
Belief in a prayer-answering, recovery granting higher power is popular in AA but by no means a requirement. And skeptics and freethinkers in AA aren't suffering from half-measures or watered down AA recovery.
If you—or someone you care for—feels that maybe they have a problem with alcohol and other drugs, and they are of the impression that AA requires belief in the grace of God, here is a wealth of practical and rational approaches to finding and getting sober that have been working for decades. Furthermore, secular AA offers meetings in person or on Zoom and other online platforms, without prayer or any theistic rituals or talk, if that's what you prefer. 
With Zoom AA, podcasts, blogs, social media and our evolving demographic AA is shape-shifting, not in core principles but in language and rituals that better meet the needs of many underrepresented populations in the rooms (and Zooms). If you're curious about the impacts of your drinking and if AA can accommodate your non-conformist ways, it's a great time to invest some time and consideration in what is available and maybe get your skeptical self to an AA meeting. You're people (those who understand) may not be as hard to find as once thought.
Happy reading...
[i] https://www.cochranelibrary.com/cdsr/doi/10.1002/14651858.CD012880.pub2/full 
[ii] https://www.aa.org/living-sober-book 
[iii] https://www.aa.org/sites/default/files/literature/assets/p-86_theGodWord.pdf 
[iv] ONE BIG TENT and other recommended readings https://amzn.to/3NFAoVm 
[v] https://www.aa.org/sites/default/files/2021-11/en_bigbook_appendiceii.pdf