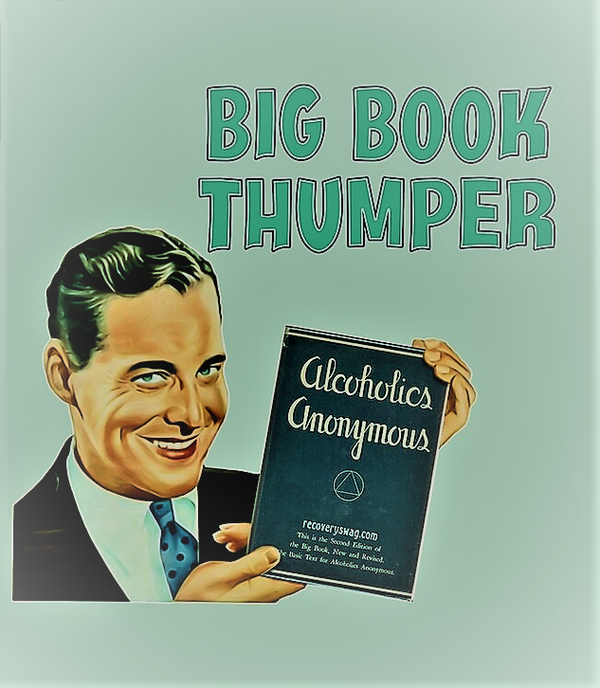 Under other time-sensitive news, "This just in:" 
You may cherish the Big Book, AKA, our first text, Alcoholics Anonymous ...
Or you may set it aside as a conscientious objector on a variety of grounds ...
But now is the time for you—yes, you—to make a difference. No, they aren't looking for your advice on changing the first 164 pages, that sacred cow will moo like it always has: cue The Who, "meet the new boss, same as the old boss." 
But the first 164 is merely 28% of the 575 pages of Alcoholics Anonymous - as I am sure you already know. The rest is mostly individual stories. Room will be made in the upcoming Fifth Edition, as it was in 1955 (2nd Edition), 1976 (3rd Edition) and 2001 (4th Edition) to show present-day AA members, with all our colors of the AA rainbow.
A call for stories from the General Service Office underscores a desire to represent the most diverse cross-section of AA that is possible. And the limit to that possibility comes from being able to choose from only what is submitted. From the Spring 2022 Box 4-5-9: News and Notes from GSO[i]... 
In response to this Advisory Action, the trustees' Literature Committee is seeking a wide range of A.A. recovery experience of members in the Fellowship. 
Recognizing that all stories are of value, the Literature Committee is searching for recovery stories that are from a broad cross-section of our local communities. As Bill writes on page 29 of the book Alcoholics Anonymous: "Our hope is that many alcoholic men and women, desperately in need, will see these pages, and we believe that it is only by fully disclosing ourselves and our problems that they will be persuaded to say, 'Yes, I am one of them too; I must have this thing.'" 
It is the Literature Committee's shared hope that any new stories from our current membership will help future alcoholics to identify and find recovery in the pages of a Fifth Edition 
If you don't hear/see your own story in this book, don't let the next you to walk in the door or click on the Zoom link feel the same disappointment that you feel. Submit your story. 
The deadline: October 31, 2022. Most pages in the book are 250 words. Most stories are six or seven pages; some are ten or twelve. So, 1,600 words to 3,500 would be the sweet spot. Double spaced, 12-point font, or you can mail in a hand-written copy. 
If writing your story is outside your comfort zone, seek the companionship of your fellow sufferers; maybe start a writing club with some of your favorite members. You can each write and read your own stories to each other. Submit them all when you are happy with them. And wow—wouldn't it be great if one of your group's stories was selected? You could all feel you contributed, no matter which of your writing group's stories makes the cut. Good luck.
Stories will be accepted in English, French or Spanish. If you have any questions, please email 5BBStory@aa.org 
READ, HEAR or WATCH (ASL) a few sample Personal Stories to give you an idea of the writing style: https://www.aa.org/the-big-book
[i] https://www.aa.org/sites/default/files/newsletters/F-36_Box_4-5-9_Spring_2022.pdf