---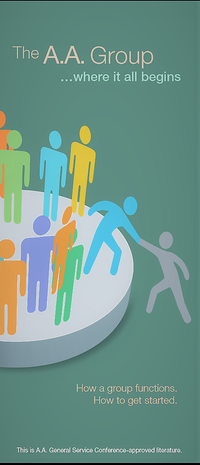 In recent blogs we have looked at what mutual-aid groups can do to support individuals who have or think they may have substance use disorder—alcohol (or other drugs). We have looked at the2020 Cochrane Library Review that explored how effective 12-step meetings were in combatting alcohol and other substance use disorders vs. other evidence-based interventions such as Cognitive Behavioral Therapy and Motivational Enhanced Therapy. 12-step facilitation was evaluated as a standalone intervention and in combination with addiction treatment and/or other therapies.
Alcoholics Anonymous and other 12-Step programs for alcohol use disorder reveal that for achieving abstinence, AA was as good as other therapies over 12 months and had better outcomes over 24- and 36-month periods of review. Even where full, uninterrupted abstinence was not achieved, 12-Step engagement reduced relapse and other consequences of alcohol use disorder including criminal (DUI), health, financial and relationship problems.
This blog is the conclusion in a series of three essays that speak specifically to how effective and appropriate the 12-Step model is for atheists and agnostics. The 12-Steps include many behavior modifications to help individuals better understand themselves and clear up damage with loved ones and in the community. AA also has this thing, about trust in God, higher power, or other beliefs, that just don't sit right with all of us.
In essay 1 of 3, we looked policies of Narcotics Anonymous, Marijuana Anonymous and Alcoholics Anonymous. The only requirement for membership is a desire to curb our self-harming substance use. There is a spiritual aspect to the 12-Step model, but no official creed or theology and any one can reject what they want and adopt what they want.
In essay 2 of 3, we used AA as an example of how to stick to reading material that is more practical and not faith-healing. Besides the Big Book of AA, we find some classic literature that isn't all about turning life and problems over to God. More is coming online as demand grows. Even the most theistic AA books offer the practical, mixed in with the supernatural, if we look at it objectively.
This essay, 3 of 3 is all about going to meetings: online or face to face (f2f).
Why Special Purpose (secular) AA meetings?
Special Purpose groups have been in AA since the 1940s. AA, and all 12-Step meetings, follow the Twelve Traditions which bestows great autonomy on each group to conduct its meeting in a way that suits members. Nothing is sacred; nothing is forbidden. Common sense and consideration of the fellowship as a whole is encouraged but the group members have the final say and there is—or should be—no overseer of groups for compliance or vetting. Special purpose groups cater to people who identify a certain way. There are meetings for women, men, young people, LGBTQ+, Black, Indigenous, People of Colour (BIPOC) and there are atheist/agnostic meetings (sometimes called freethinkers, secular, or humanists' groups). The primary purpose is still to stay sober and help others achieve sobriety. There are also career specific meeting for pilots, lawyers or doctors who identify as alcoholics.
History of secular AA
There have always been people getting sober in AA who do not believe in a higher power. The first AA for Atheists and Agnostics group that we know of came from Chicago in 1975. More started, especially in urban areas for the next few decades going from a few to a few dozen, a few hundred and in this Zoom era of meetings there are meetings, workshops panels and conferences of all kinds. About 16 hours per day there are secular AA meetings. Everyone is welcome, regardless of their worldview but the content and rituals are irreligious (no prayer for example). A master list is available online kept up by volunteers for anyone who wants to sample a few secular AA meetings. Where you live, especially if it's in an urban center, you can find local AA, either f2f or online. Many offices (sometimes called Intergroup) have filters: day, time, area, type, etc. Under type, some have either "secular" or "agnostic" as a filter along with other types (women's, Step study, young people's, etc.).
Overeaters, Narcotics and Marijuana Anonymous meetings are starting in this vein, too. AA now has secular meetings in English, Spanish, French, Polish and Portuguese (maybe other languages).
In our 1 of 3 blog we asked readers to evaluate what kind of non-believer are you? If you are anti-religious, even the most liberal of AA meetings might be upsetting. If you have a live-and-let-live approach, any AA meeting will be helpful to some degree. Wherever you fall on the non-theistic scale, secular AA meetings will "speak your language" about addiction and recovery.
So many choices
For women, She Recovers and Women for Sobriety are more modern organizations, so they speak in a contemporary language. For anyone of any gender identification, try SOS (Secular Organizations for Sobriety) SMART Recovery and LifeRing. Dharma Recovery or Refuge Recovery offer a Buddhist recovery approach to understanding and overcoming addiction, if you are looking for an Eastern philosophy approach.
Should I try going to a meeting?
No, bad idea. I say that jokingly. What is a bad idea is to make a long-term decision based on one single meeting. Meetings vary enough from each other, that an impression based on one meeting is almost certainly going to yield a false-positive or a false-negative conclusion, so a fair sample is suggested.
Approaches to exploring meetings to make an informed decision will vary depending on who you ask:
Try a dozen different meetings and return to the three or four you liked the most.

Some will say make a commitment: 90 meetings in 90 days sounds intense. But if you're not drinking, you have time.
How severe the intervention should match how dire your consequences are. For some people they aren't working at the time they reach out for help. For employed people some work their recovery around their other responsibilities, some take a leave of absence to focus on recovery for a few weeks. So committing to a reasonable sample group allows you to get to know people and the process better. If these people are going to be your allies, be informed and shop around. Remember this isn't "self-help" so much as mutual aid. "We are all in this together."
Finding what works for you
You'll hear things like "meetings aren't therapy," "rehab isn't recovery—it's acute-care treatment," and facetiously, you might hear, "some are sicker than others." It's not meant to be shaming. It just means this isn't one-size-fits-all. Recovery may include acute care (detox, treatment, trauma-informed therapy) but recovery is a lifestyle like fitness. It's hard to imagine alcohol or other drug-free life when confronting the idea of sobriety, early on. But everyone you meet at these meetings felt what you're feeling, and they represent peers, not professionals or teachers, who were helped by others and happy to pay-it-forward by getting to know you better and offering some encouragement.
Call a local emergency healthcare number if you are now—or suspect you may—experience seizures from withdrawal. For more information about recovery communities and resources visit us at RebellionDogsPublishing.com