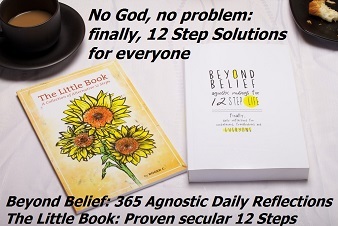 Booksellers & Treatment Professionals:
Rebellion Dogs Publishing is grateful to support professionals, Intergroups and institutions. As a specialized micro-publisher, we are pleased to offer bulk discounts for treatment and aftercare in support of those with substance and process addiction.
$US
PDF order form
Scroll down for bulk discount pricing
$CDN

PDF order form
By the Numbers:
Of Americans over the age of 21, 3.8 million were treated for substance addiction/alcoholism in 2011 (National Survey on Drug Use and Health: Summary of National Findings). We write about 12 Step life in a language, aimed to include everyone. We know that we have a special connection with 266,000 to 688,000 of that 3.8 million who seek treatment. For skeptics/nonbelievers, 12 Step literature written the way we think and talk was previously unavailable. 
The Pew Forum on Religion & Public Life 2012 survey shows 7% of American's
don't believe in God
. Another 15% are
less certain than they once were
that an intervening deity has a role to play in our lives. In Canada, 25% of adults don't believe in a prayer-answering, sobriety-granting higher power. The percentage of people who hold a supernatural worldview in Europe and Asia is smaller, still. 
Satisfying an unmet need:
Is believe in God a prerequisite to explore the Twelve Steps? Our experience is a resounding, "No; atheists and agnostics enjoy long-term recovery in Twelve Step communities. Addiction plays no favorites; no race, creed, socioeconomic status, IQ score or age group is risk free from substance and process addiction and/or codependency. 21st century recovery has to be, what we call, "worldview -neutral" - the language of the heart, regardless of what the addict/alcoholic does or does not believe.
Our books are not anti-theist or antagonistic. Rebellion Dogs is universal – appealing to believers and skeptics
. 
Finally—12 Step literature for nonbelievers, freethinkers and everyone!
Institutional and Professional Discounts

6" x 9" paperback,410 pages including 365 thoughts for the day, notes, bibliography and an index of 120 subject/topics (suggested retail: $18.89)
ISBN: 978-0-9881157-0-5
Beyond Belief: Agnostic Musings for 12 Step Life by Joe C.

Ernest Kurtz, PhD, author of The Spirituality of Imperfection and Not-God: A History of Alcoholics Anonymous says, "The book is aimed at a general 12-Step readership, but it is mindful that there heretofore exist no such aids for unbelievers, freethinkers, and the unconventionally spiritual. Given that the latest Pew survey found that twenty percent of the American people list their religious affiliation as 'None,' it is certainly time that the Recovery world took into consideration this population's needs. Beyond Belief addresses that need in a confident, non-aggressive way. I doubt that any believer will find anything objectionable in its pages. This believer, for one, finds much that is spiritually helpful."
 

6" x 9" paperback, 72 pages (suggested retail: $12.00)
ISBN: 978-0-9917174-0-8
 
The Little Book: A Collection of Alternative 12 Steps by Roger C.

Forward by William L. White, Slaying the Dragon: A History of Addiction Treatment and Recovery in America. The booklet contains 20 alternatives to the 12 Step program of recovery and interpretations by Gabor Maté, In the Realm of Hungry Ghosts, Allen Berger, The Therapeutic Value of the 12 Steps, Thérèse Jacobs Stewart, Mindfulness and the 12 Steps, Stephanie Covington, A Woman's Way through the Twelve Steps as well as templates to guide readers in writing their own interpretation of the 12 Steps of Alcoholics Anonymous.
 
Two great books-better together

0   to 5   = regular price
6   to 29 = 20% discount
30 to 99 = 30% discount
100 +     = 40% discount

Combine orders for larger discounts: Order 12 of Beyond Belief and 12 of The Little Book for a 20% discount. Order 50 of each (or 75 of one and 25 of the other) for a 40% discount.
 
# of copies

books (combine
for discount) $US
regular
0 to 5
20% off
6 to 29
30% off
30 to 99
40% off
100+
Cost ($US)
 
Beyond Belief
$18.89
$15.11
$13.22
$11.33
$______
 
The Little Book
$12.00
$ 9.60
$ 8.40
$ 7.20
$ _____
example $US (Canadian retail for Beyond Belief = $23.99):
30books (15 of each) would be 12
Beyond Beliefs
($15.11 x 15 = $226.65) + 15 The Little Books ($9.60 x 15 = $144.00) for a total of $370.65 + shipping and applicable taxes.
100 books 40 Beyond Beliefs ($11.33 x 40 = $453.20) = 60
The Little Books
($7.20 x 60 = $432.00) for a total of $885.20 + shipping and applicable taxes.
36 Beyond Beliefs ($13.22 x 36) = $475.92 or 36 The Little Books ($8.40 x 36) = 302.40 + shipping and applicable taxes.
Feel free to download a
PDF order form HERE
. You can call us at
416-239-8737
or email us at
NEWS AT rebelliondogspublishingDOTcom
Please review our privacy and returns policy
HERE
Preview
Beyond Belief: Agnostic Musings for 12 Step Life
-
Preview
The Little Book: A Collection of Alternative 12 Steps
Get to know the Little Book and Beyond Belief authors from clicking on the CBC National Radio show below.