Review the player below for Podcasts, Radio and public appearances. How can Rebellion Dogs make your event better?
2017 EVENTS:
We Agnostics, Atheists & Freethinkers AA Conference was December 9, 2017 Tempe Library 9:30 to 4:00 PM Hear Audio from Arizona Secular AA Conference HERE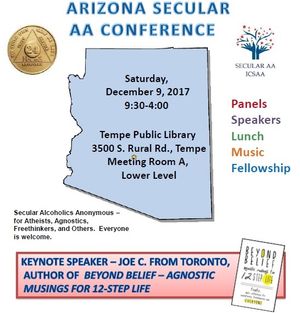 Issues of Substance Calgary 2017 Conference "Addiction Matters" hosted by Canadian Centre for Substance Use and Addiction
From the Calgary Hyatt Regency November 13th to 15th, 2017 Joe C of Rebellion Dogs Publishing along with Dianne P of Bellwood Health Services (Toronto Canada) on research on the history of, + the current status of secular 12-Step Recovery and implications for the greater addiction/recovery community. We presented a Research Poster, along with 79 other + panels, workshops and keynote speakers by researchers, policy makers and the addiction/recovery treatment industry. Below is a picture of the poster VIEW/DOWNLOAD a PDF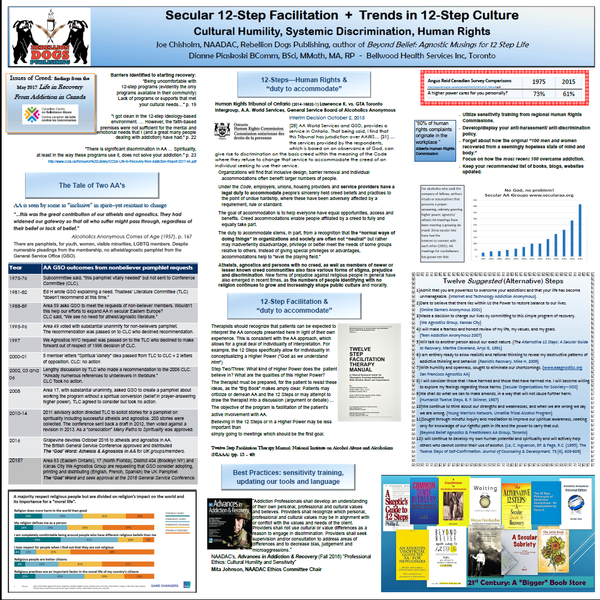 SOAAR (Secular Ontario AA Roundup) September 16, 2017 at United Steel Workers Hall, Toronto Canada 9:30 AM to 10:30 PM. Click HERE for information and registration.
The Twelve Step journey - with or without God: Joe C, author of Beyond Belief: Agnostic Musings for 12 Step Life is moderation a discussion about the number one objection to the Twelve Steps today - according to Psychology Today - The "God" word. No God, no problem. Were discussing it in the desert; all are welcome regardless of what you believe or don't belief. No conversions, no bait-and-swich, no bashing what anyone else believers.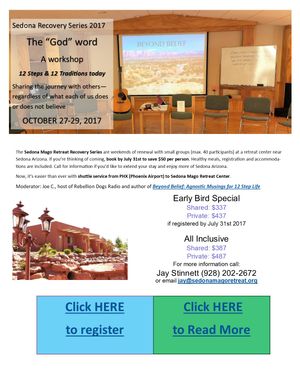 2016 EVENTS:
March 2016 at the Symposium on AA History, Rebellion Dogs Radio host Joe C presented on AA's Unbelievers: The ongoing history of atheists and agnostics in AA. Hear and See it on YouTube.

October 7th to 12th we're at NAADAC Annual Conference in Minneapolis.
October 8th visit our workshop: Together, an atheist and a theologian prepare a client for their first 12-Step meeting.
Joe C. (Toronto, Canada) is a columnist (Renew, TheFix.com, In Recovery Magazine, Pacific Standard), author of Beyond Belief: Agnostic Musings for 12 Step Life and host of Rebellion Dogs Radio and IndieCan Radio, heard on SiriusXM Radio.
John McAndrew (Palm Springs California) is a partner in Sensible Spirituality Associates (www.sensiblespirituality.org). A parish priest for 18 years, he recently served as Director of Spiritual Care at The (Hazelden) Betty Ford Center.
Invite Joe C. for panels, keynote addresses and interviews:

Topics:

Losing our Religion: A more secular 12-Step language for 21st century addicts
45 minute presentation or all-day workshop that touches on how new millennium 12-Step fellowships (Online Gaming, Teen Addictions Anonymous, Internet & Tech Addictions Anonymous) have crafted the 12-Step language that includes humanists, atheists, agnostics, as well as the spiritually unconventional.

Yesterday, Today and Tomorrow: Demographic and Tech Trends impact on Addiction/Recovery

45 - 90 minute presentation or all-day workshop that looks at the history of addiction and recovery against the context of changing worldviews and technology. Millennial newcomers to recovery don't share their parents customs. Enjoy lessons learned from the last 20 years in the music industry. Rebellion Dogs look at how consumption habits have changed. This new reality is as true in music biz as it is in health and wellness. Your blog, your YouTube Chanel, your brand: Podcasting, webinars and social media are essential to meeting today's process or substance use disorder client where they live. 

If you're new to Rebellion Dogs Publishing:
You can subscribe to our podcast, Rebellion Dogs Radio now. Check out blog page for the latest or visit our Pod-O-matic page. You can also find us under podcasts on iTunes. Stream the shows or download them to your phone, computer or listening device.

Below, you can click on or off any of these audio tracks. There is couple of AA talks from 1996 and 2007, a portion of a CBC show that features AA with - and without - God, Episode 2 of Rebellion Dogs Radio that features Joe's guest spot on Wellness Factors Radio. Also, Joe + Joe, one atheist and one priest talk on the 2011 There Is A Solution, Spirituality Panel at the Ontario Regional Conference in Toronto Canada.


 
Get to know authour Joe C (audio)
0:00/5:25

0:00/21:30

0:00/42:46

0:00/16:34

0:00/28:22

0:00/33:40

0:00/46:30
Get the latest on Beyond Belief
The legacy of recovery from addiction that remains, beyond belief:
After the first 1939 printing of Alcoholics Anonymous, oft referred to as the Big Book, the second and subsequent editions contained Appendices such as The Twelve Traditions (which didn't exist at the time of the first printing) and Appendix II, The Spiritual Experience:

"…Though it was not our intention to create such an impression, many alcoholics have nevertheless concluded that in order to recover they must acquire an immediate and overwhelming 'God-consciousness' followed at once by a vast change in feeling and outlook.

"Among our rapidly growing membership of thousands of alcoholics such transformations, though frequent, are by no means the rule. Most of our experiences are what the psychologist William James calls, the 'educational variety' because they develop slowly over a period of time."

The first writing may have suggested that believing (in God) and belonging as being synonymous; if you didn't believe then you couln't belong.  Today we know beyond a doubt that faith in God is not an assurance of recovery; disbelief is no handicap.  However, many atheists, apostates and agnostics have been the target of proselytization. For literalists, non-theistic application of the Twelve Step program is dangerous or second-rate.

BOOKS & BELIEFS in the NEWS

Edgewood Health Network The Path Blog, Joe C - atheist, AA and 12 agnostic Steps that have worked for years READ IT HERE

Renascent Treatment Centres Greater Toronto Area. TGIF alumni letter featured, "No Faith No Problem". On their site they have a segment of the Tapestry Radio Show with three members of Beyond Belief Agnostic Group in Toronto. "The Dilemma of No Faith" article by Bill W. from the Grapevine is there + this week, Rebellion Dogs Joe C. posted a guest-blog: CLICK HERE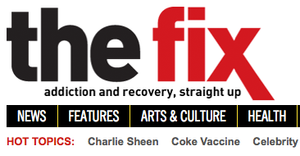 Jesse Beach: Five Myths Shared by Big Book Thumpers and 12-Step Bashers and why they're both wrong. READ IT HERE

Jesse Beach of Rebellion Dogs writes about Intergroups becoming the seat of "perilous power" as they discriminate against agnostic AA groups May 2011. READ IT HERE

Jesse Beach reviews Marya Hornbacher's Waiting: A Non-believers Higher Power in THE FIX. READ IT HERE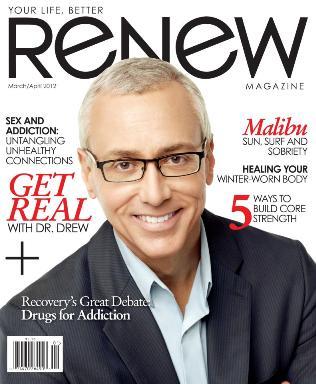 Joe C, looks at a few local AA's struggle in Toronto, Des Moines and Indianapolis (2011) with groups that don't pray and in some cases read a secular version of AA's Twelve Steps. CLICK HERE and flip through to PAGE 25

PAUL WILLIAMS interview with Joe C. The Movie Paul Williams: Still Alive, a life in the music business and more; CLICK HERE.

AMY - the Movie. From North By North East Conference Joe C looks at the 2015 documentary on the life, music and death of Amy Winehouse. CLICK HERE

SUBSTANCE.com

Losing Our Religion: A secular trend in 12-Step culture finds a new millennium language for 1939 solutions. CLICK HERE.

IN RECOVERY MAGAZINE

MANY PATHS TO SPIRITUALITY The new AA pamphlet and why it lets atheists and agnostics down. CLICK HERE.

ERNIE KURTZ (1935 - 2015) Why I miss him, what I learned. The author of Not God: A History of Alcoholics Anonymous, The Spirituality of Imperfection and so much more. CLICK HERE.
recovery but by the Twenty-first century, I thought it was time – we have a need and we have something to contribute to the recovery conversation.