So we did it: 2020 virtual International Conference of Secular AA. How did we do? There were some tech glitches, and I will get to that. A virtual International gathering for atheists, agnostics and freethinkers on this scale is something we've never done before. While it wasn't a perfect conference, it was a perfect learning experience and I suspect we will have more of these, COVID-19 and/or post-COVID-19. 
This blog will be living document. I will add more ICSAA 2020 content, as it gets edited. But I want to get the content out as it comes available. At the time of writing, we have the first two hours of content held in the Beyond Belief Room.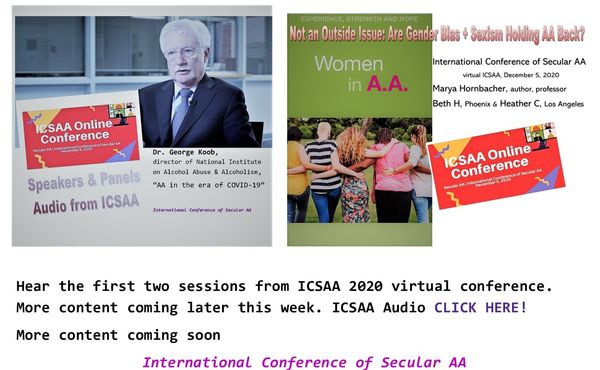 Chair, Gregg O kicked off the meeting at 9 AM PST, Noon EST and 5 PM GMT. 
Dr George Koob is the Director of the National Institute for Alcohol Abuse and Alcoholism. He was as interested to engage with us as we with him. He came to talk about challenges for AA in the era of COVID, studies going on about us and the latest in neuroscience and recovery research. Incidents of alcohol use disorder, and other drug use, is up during COVID-19 and if you've seen an increase in the number of new people in your Zoom meetings, that would be part of it. In the last year almost 5 million emergency hospital visits have been alcohol related and (USA) 95,000 deaths this last year have been caused from alcohol use. But don't take my word from it; hear it from the good doctor...
CLICK HERE to HEAR the first hour. Along with Dr. Koob's comments, we invited participants to speak about diversity in AA and how special purpose meetings for LGBTQ+, Black, Indigenous and People of Color (BIPOC), young people's, women's, atheist/agnostic groups or meetings of languages other than English make a difference in our lives. Dr. Koob was quite keen to hear from us. 
VIEW or DOWNLOAD the slides from Dr. Koob's presentation.
More on NIAAA
We had a number of "It came from..." panels including "It came from Cleveland" introducing a comedy skit from our Higher Palooza friends debuting the first Hank Parkhurst Blackout Players and we have some infamous history writers who share in "It came from our past." "It came from London" will feature those who engineered the creation of The "God" Word: Agnostics & Atheists in AA leaflet, now available in three languages around the world. "It' came from the Kitchen" is a tongue-in-cheek look at one of AA's persistent barriers. Not an Outside Issue: Are Sexism and Gender Bias Keeping AA Stuck? was our 1 PM Beyond Belief room panel that confronts some of the less helpful AA traditions and how we can correct micro-agressions and discrimination, starting from our home group.
Marya Hornbacher, journalism professor, author Waiting: A Nonbeliever's Higher Power and New York Times bestsellers.
Beth H, Phoenix AZ 
Heather CV, Los Angeles CA 
CLICK HERE to HEAR Not an Outside Issue: Are Sexism and Gender Bias Keeping AA Stuck?
More presentations are coming soon. To view the whole program from AAsecular.org CLICK HERE
Added December 13: THIS JUST IN hear it now...
IT CAME FROM LONDON: The "God" Word leaflet, conference approved and other literature written by AAs for AAs, how to have more unabashed non-theist AA member's stories in widely read AA literature. Moderated by Karen, with Cyril, Antonia and Brendan + group participation. CLICK HERE
IS IT EVERY OKAY TO LEAVE AA? with Vic Losick, New York, John Huey, Washington DC, Jon Stewart, PhD, Brighton UK. LISTEN HERE 
Now, for some not-so-good ICSAA 2020 stuff...
It started with our unexpected Zoom surprise. We kicked off at noon on December 5th, 2020 Eastern Standard Time as prepared as we could be for this new adventure. Our ICSAA program was using three Zoom platforms:
ICSAA's own pro account (100 participants),
OMAGOD's (Our Mostly Agnostic Group of Drunks, Orlando FL) NY Intergroup Enterprise Account (300 participants) and
Beyond Belief (Toronto)'s upgraded account, from 100 to 500 participants. That room—as many of you know—is where the problem emerged.
It's (supposedly) been a 500 participant account since about mid October when our Saturday 7 PM EST Beyond Belief Agnostics & Freethinkers group was routinely hitting the 100 limit. How many were left outside, 2, 20, 200? We didn't know, but one's two many so at our business meeting we agreed to pay the extra $75/month for a more roomy room. And we've been paying for the 500 participant upgrade for a few months, now.
At 12:05 we were at 100, no one else was getting in and we knew something was going south. By 12:06 we were getting messages on What'sAPP, Facebook, texts, and email. Called Zoom tech-support. By 12:10 we're in the cue on the phone at Zoom.us. 12:20 a tech guy answers, I give him the account number, particulars and tell him what our problem is. "How do we fix it?" He writes down our account number, "Someone will call you," he tells me. I remind him it's urgent, we hang up, I turn up the ringer and wait.
You guessed it, no one called. 
I did get a letter from sales - not tech - that made a recommendation:
Thanks for reaching out. You can upgrade online by following the instructions here to add-on the Large Meeting Plan: 1. Upgrading from a Pro plan to a Business plan. ... 
Cheers, 
Jeremy Brace 
Online Team @ Zoom Video Communications 
What a great idea—except, if he looked at our account history, he would have seen that he (or someone in his office) already sold us the "Business plan" which wasn't performing as promised. 
I saw this letter hours later, well after our conference finished. I was tired. I sent him a pretty snotty note about how I thought he should do his job and why was upset that he - not the tech help I asked for and was promised - was contacting me. I felt let down by Zoom.us and I wanted that to be clear. 
So, he wrote me back. Jeremy said he's sad to hear what happened, he was forwarding my letter to billing/accounting for a refund or credit.
Billing contacted me and said,
"Thank you for contacting Zoom Billing. I understand your frustrations and this is simply not the way we would want our customers to experience. I know that what you had was a once a year event that it can never be redone again. Let me try to help you understand what could've happened and what we can do to avoid it moving forward. 
I checked on your account in our system and I can see that you are subscribed to a Standard Pro Yearly plan and a monthly subscription of the Large Meeting 500. Maybe just maybe, the license for the Large Meeting 500 was not assigned to a user and that what was used during that time was just the Standard Pro which only has a default of 100 people. Please check on the link below for the complete information on how you can correct this glitch to host large meetings as well."
I followed the link, it was hardly intuitive but I followed the clicks and instructions and bingo - back to 500. Now that's good but what is so frustrating is WHY DIDN'T THE TECH GUY TELL ME THIS so we could have fixed it at 12:22 PM Saturday, not Monday morning, long after the conference ended. What the F***?
Now we did have contingencies for over capacity. We were set to go with a private live YouTube feed for people to watch in real time what was going on in the room. John S from AA Beyond Belief and the secular AA board posted it to the program page on aasecular.org and we put it on as many Facebook groups as we knew were announcing the conference. But a lot of people shared the announcement and we couldn't find all the links sending people to dead end, "Meeting full" notice.
Problem #2: Not even our speakers and panelists could get in; it was quite the scramble to find them, get them in and keep the program rolling without too much trouble. Whey you hear Marya Hornbacher's opening comments you'll get a feel for the chaos. It wasn't the come as you are, enjoy the previous presentation, visit our breakout room where you three speakers can discuss any last-minute preparations... It was ten to 1 'clock EST and none of our speakers could even get in the room or talk to each other. But they were poised and professional. They settled things down and killed it with a dynamic, impactful presentation.
The history panel, high on attendees list, featured:
moderator, 2022 AA History Symposium chair, Jackie B
William Schaberg, author of Writing the Big Book: The Creation of AA (2019)
Christopher Finan, author of Drunks: The Story of Alcoholism and the Birth of Recovery
Key Players in AA History author, Bob K
This review of historical research teed off at 3 PM and tops for many planning on being at ICSAA. I could see we were frozen at 100 participants still. There were 1,200 looking on the YouTube private feed so by 3 PM, hopefully most attendees figured out how to navigate our troubles.
There are plenty more ICSAA 2020 adventures and recordings to share. Keep this link and come back periodically as we'll add to the links and commentary through the week(s) to come.
At this point I would love to thank the volunteers who so freely gave of their time and energy and helped us through these uncharted waters. They helped you, they helped us. There is no question about "if" we will unveil another virtual mini-conference. The only question is when - and who? ICSAA's board is ready to help and we've learned a lot if anyone is interested in putting a program together. Let's talk.
The OMAGOD room worked perfectly, allowing up to 300 participants. The ICSAA Lounge was well utilized although we neglected to enable breakout rooms for small groups that wanted to chat privately... Oh well; next time we'll be better.
All of the presentations are now available in audio and a couple of YouTube videos at our ICSAA site CLICK HERE
The official ICSAA Podcast Page with hours of free panels/speakers CLICK HERE to HEAR!
On the "Rule 62" side of AA life, let's never take ourselves too seriously. As mentioned earlier ICSAA 2020 was the debut of Dialogue with Grod: Is belief in God(s) necessary for long term recovery in AA, the inaugural comedy skit from the Hank Parkhurst Blackout Players - a troupe from Freethinkers Cleveland who bring us connection with Higher Palooza on Zoom, monthly. Enjoy the show