There are a lot of fellowships where mutual-aid is available for almost every conceivable problem. Alcohol and other drug use disorders not a yes/no diagnosis anymore (eg: moderate, severe, chronic  alcohol use disorder). Some people identify as having an alcohol or other drug disorder but process addiction isn't something they identify with; they rarely fall into dark and downward spirals with sex, food, codependency or other traps that may ruin someone else's life. Some of us find that if some activity or substance offers comfort, we over do it or struggle to control it. How may peer-to-peer groups are we going to have to join?
That's a personal challenge and our needs may change over time. We know there is SMART-recovery and LifeRing and Dharma Recovery/Refuge Recovery that are all addiction, non-12-Step approaches to addiction. While each program helps religious people as well as irreligious addicts, none of these are come together around ye olde Twelve Step recovery of Alcoholics Anonymous, which is expressed in a (small "c") Christian language, God as we understand Him, etc. As the developed world trends more secular, agnostic/atheist versions of many 12-Step approaches are on the rise: Secular NA, Al-Anon, Over-eaters, Adult Children of Alcoholics, etc.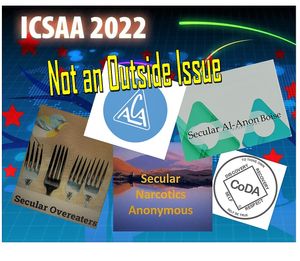 What has become a regular meeting at the International Conference of Secular AA, at the fifth biennial ICSAA 2022, October 29th and 30th, "Not an Outside Issue" featured members from secular groups of Narcotics Anonymous, Over-eaters Anonymous Co-dependents Anonymous, Al-Anon and Adult Children of Alcoholics. Included here in this blog is the audio from this meeting and links to various fellowships that may be helpful.

Join Jim D and Jenne M of OA, Ken S of NA, Sheila K and Chia W of Al-Anon, Jill B and Elaine M of Adult Children of Alcoholics, Matt H of CODA, along with fiends and participants. 
LINKS:
 
Many of these groups can be found on lists updated by volunteers like this one: 
16 hours per day of secular AA and other recovery meetings: https://bit.ly/secularmeetings 
More International Conference of Secular AA: https://secularaa.buzzsprout.com/ 
More #ICSAA https://aasecular.org 
SECULAR AL-ANON 
Secular Al-Anon: https://rivenwoodbooks.com/secularAlanon/ 
Al-Anon meeting in this room Sunday at 3:30 eastern time 
SECULAR OVER-EATERS 
Resources and support for secular members of Over-eaters Anonymous (OA) and others dealing with obsessive food behaviors. 
https://secularovereaters.org/ 
secularovereaters@gmail.com 
Jenne's favorite secular 12-step book: The Alternative 12 Steps: A Secular Guide to Recovery  Martha Cleveland, phd + Arlys G. 
Food Freedom Resource Manual: https://secularovereaters.org/wp-content/uploads/2022/04/SO-FF_04222022.pdf 
 Website for OA Secular Service Board: https://www.secularserviceboardofovereatersanonymous.org/ 
💥AHA: Agnostic, Humanist & Atheist Codependency Support Group💥 
P=Pacific     E=Eastern I=Irish/UK    C=CET/Belgium 
 ID (ZOOM): 893 7797 1773  -  Passcode: 023387 
MON 🌹Healing Together💚 
P=4pm, E=7pm, I=12am(TUE), C=1am(TUE) 
TUE 🤩Topic Meeting✌️ 
P=5:30pm, E=8:30pm, I=1:30am(WED), C=2:30am(WED) 
WED 🤝Check-In❤️ 
P=12pm, E=3pm, I=8pm, C=9pm 
THU 📖Writers Meeting✍️ 
P=10am, E=1pm, I=6pm, C=7pm 
FRI 😊Topic Meeting👍 
P=2pm, E=5pm, I=10pm, C=11pm 
SAT 😍Informal Chat💬 
P=6:30pm, E=9:30pm, I=2:30am(SUN), C=3:30am(SUN) 
Our Website:  http://atheistcodependent.com/ 
 Secular Narcotics Anonymous: secularna.org 
Secular Adult Children of Alcoholics(ACoA): We Agnostics https://acaagnostica.com/ 
The meeting information is the same for ALL meetings. 
Meeting ID: 814 3727 6969  - Passcode: 247365