Rebellion Dogs Radio # 63 features Dr. Allen Berger. Here is one of many gems from 12 Essential Insights for Emotional Sobriety: Getting Your Recovery Unstuck:  
 "In our lives, emotional stability is achieved by becoming aware of our toxic beliefs and unenforceable rules, the idea that makes our emotional balance dependent on external conditions. We start to see how these ideas and rules emerge in our relationships with others ('If you love me, you will do what I want you to do') as well as in the lies we tell ourselves ('The right person can rescue me from my troubles').  
Once we become aware of these unenforceable rules, we must surrender them. We need to move towards an attitude of 'I'm okay even if this or that happens,' and away from the idea that 'I am okay only if this happens or that happens.' This is emotional freedom."  
From Chapter 15 "Paddling Our Own Canoe"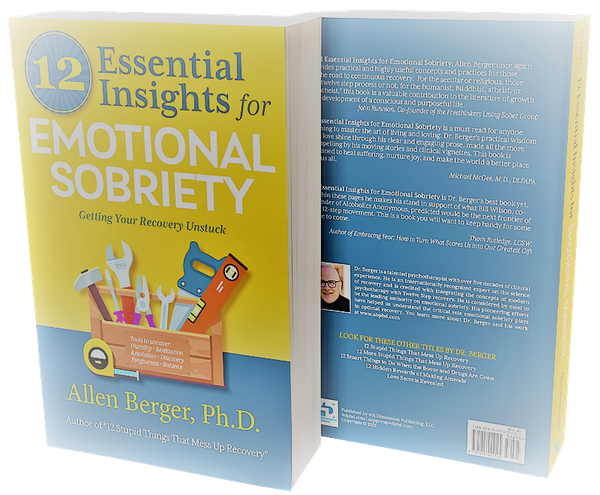 This is the latest from Dr. Allen Berger, 12 Essential Insights for Emotional Sobriety. Also on Episode 63, Dearly Beloved, Internationally enjoyed alternative rock band, but from Toronto Canada, provides our musical stimulation, going back to their 2016 Admissions album: Admissions is a great word... double meaning, getting honest or the gate keeper to be being let in... spooky.
The 12 essentials, in point form only:
1. Waking from our sleepwalking, 2. Living life consciously, 3. Discerning our emotional dependency, 4. Knowing that it's not personal, 5. Realizing that no one is coming, 6. Accepting what is, 7. Living life on life's terms, 8. Discovering novel solutions, 9. Breaking the bonds of perfection, 10. Healing through forgiveness, 11. Living life with purpose & 12. Holding on to ourself in relationships.
This 2021 offering is the next installment in what's been a series of well-received books of sober second thought that we will discuss in this episode. Emotional Sobriety This one expands on something Bill W of AA wrote about in AA Grapevine, January of 1958, thirty+ years sober. 
"Perhaps this will be the spearhead for the next major development in AA—the development of much more real maturity and balance..." The essay is called, "The Next Frontier: Emotional Sobriety." 
Allan and I got to know each other better as part of a foursome: Marya Hornbacher, John R of the Verde Valley Arizona Freethinker's Living Sober group + Allen and I did a one-time Zoom Emotional Sobriety workshop, which became a five-part series with the four of us riffing off of each other and some great audience participation. That can still be enjoyed—if that's what you're into—at FreethinkersLivingSober.org (see below).
Teamed up with long-time friend and colleague, psychotherapists and best-selling authors Thom Rutledge, Allen has his own podcast. This is the second series of podcasts with this duo and their friends. The first: Start Right Here was a series of 40 podcasts, still available to stream or download. The latest: Emotional Sobriety is a deeper dive into what we discussed here on Rebellion Dogs Radio. Find these podcasts on your Spotify, Podcast Addict, Apple Podcast app, or where you consume content. Or see our links below. In the spirit of "to be continued" rumors are now circulating that I will join Thom and Allen for an upcoming episode on their show, as their guest. 
As "Rebellion dogs our every step," once again, we close with song. Music captures emotional range in ways Joe and Allen talk will not.
Allen, I know you admire John Entwistle's bass work in The Who. Our song and band today could be called a  21st century version of The Who's establishment-challenging, pre-punk rock and roll. Dearly Beloved, with Rob Higgins on bass and harmonizing with co-vocalist Niva Chow, put out a 2016 album called, Admissions - available digitally, on disc or vinyl. The song I've chosen for bass, vocals and lyrical content that speaks to the bonds of emotional inebriety is "I Tried to Leave."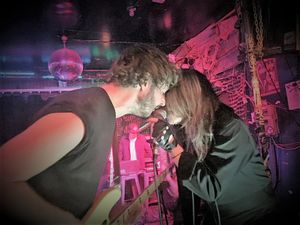 I tried to leave, I tried to leave
How can it be? I mean I had my doubts.
Just when I think I'm free, I'm still in your house. 
I tried to leave, I tried to leave. Dearly Beloved pictured from 2019 at the Bovine Sex Club, Queen Street W, Toronto.
https://dearlybeloved.bandcamp.com/album/admission-2  
https://www.dearlybelovedmusic.com/
Again, try as Allen and I may have done to articulate the challenges of regulating emotional wellness over an hour, we may be outdone by rock 'n' roll in 2 minutes 22 seconds. Enjoy this and more on Episode 63 of Rebellion Dogs Radio. 
Other show notes/links
CLICK HERE to view or review 12 Essential Insights for Emotional Sobriety
More Dr. Allen Berger, books, blogs, video, audio- https://abphd.com
Emotional Sobriety Workshops https://es.freethinkerslivingsober.org/resources/videos/
Allen and Thom's Emotional Sobriety Podcast: https://www.listennotes.com/podcasts/emotional-sobriety-allen-berger-thom-rutledge-K-TwpHn8fv1/