Heard Around the Rooms:
"We don't care if you're from Yale or jail, here." Jim Burwell (March 23, 1898 - September 8, 1974) "Action is the magic word; you can't get goosed by the spirit if you don't get off your duff!"
Understandably, September 1974, I did not know who Jim Burwell was, or how his past would inform my future. September 8th, 1974 , that was a Saturday, easy for me to remember. As it turns out, Jim B and I would both awake in hospital beds: he in a palliative care unit in San Diego, and me on a gurney in the Emergency Room of the Lakeshore General Hospital in Montreal. 
Jim B was 36 years, two months, four days sober, an atheist, and one of the first few dozen to get sober in Alcoholics Anonymous. Jim B would die this day, outliving both official AA founders, Dr. Bob and Bill W.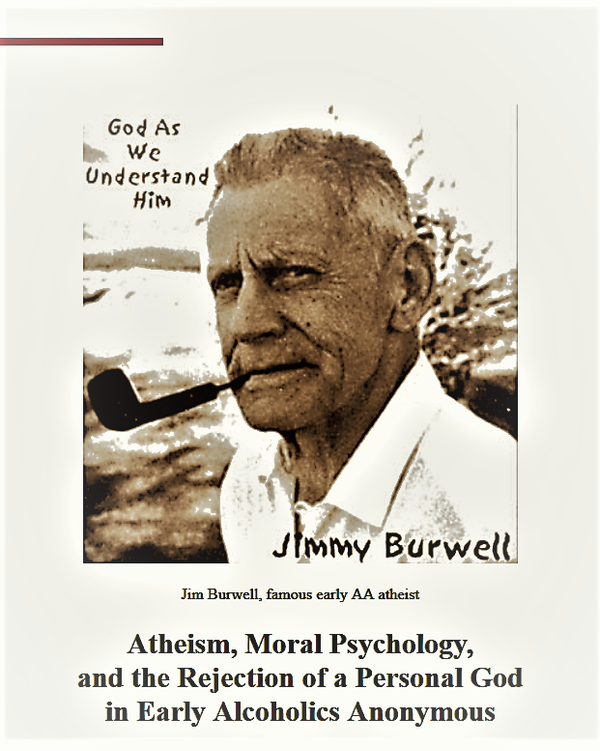 Meanwhile, in Montreal, early morning Saturday September 8th, 1974, I was brought to the hospital by ambulance, having been found face up in my own vomit in the boy's locker room of the Macdonald High School hockey rink, by the Zamboni driver. He was  opening up the arena around dawn to prepare the arena for the day's scheduled programme. What I was told, is that he found me laying motionless, thought for dead. 
Coming out of my first black out, I was in a busy Emergency Room hallway. I did not know where I was. The last memory I had was from 15 hours before, friends and me, passing a bottle around between the high school football field and the back-alley entrance the school. We were there for a Friday night dance. I had been drinking all day; I had not paced myself. The music was starting inside the school; it was time to go into the gymnasium. I collapsed to the ground and I couldn't get up. I remember hearing, "Come on Joe; it's time to go; get up!" I could not respond. The last memory I have, paralyzed and speechless, I was drifting into—what I now understand to be—a blackout. Fading to black, my last memory was someone tugging on my feet, saying to our friends, "I'm tying his shoelaces to the bicycle rack. He'll be fine here; let's go inside." 
My next conscious moment, I assumed I was in the school somewhere. But I didn't know where I was or how I got there; I didn't even know I was coming out of a blackout. Instinctively, I searched for clues. There was a window high on the wall by the ceiling of the hospital corridor. Sun was coming through. "That can't be," I thought, "It's nighttime." Of course it wasn't night, anymore; I was discombobulated. I was sick and aching and struggled to get my wits about me. Soon, my toxicology report would be read to me by an unimpressed, unsympathetic doctor who had recently pumped my stomach. According to the good doctor and the mad science of 1974 toxicology was this news flash: Joe, you did cocaine for the first time in your life, sometime, somewhere in the lost hours of the night before. 
I was trying to process, get my shit together, I drew a blank on what happened from the time that I was ditched by my mates, about 7 PM Friday, and waking in alarm, hours later, miles away, in a hospital. No memory recollection or second-hand accounts since then, have revealed any details of the where, when, what, why and with whom of those lost hours of September 7th. I will say that coke was, for this teenager, generally out of my price range. I did not really hang out with coke-heads, I guess because they didn't seem to want to hang out with me. Still unknown to this date, what might I have done to get and take cocaine that night? It's a mystery. 
I would be going to my first AA meeting—not that I thought I needed it—on Tuesday September 11th. Unbeknownst to me, my recovery journey was beginning. I don't keep a journal, but I know I was one of the Grade 9s, crashing the Grade 8 dance, which is always the first Friday night after Labour Day. Two weeks earlier, August 25th, 1974, I turned 14-years-old. So that's how my September 8th was unfolding.
Back in San Diego, widow Rosa Burwell and SoCal's AA were preparing for their beloved Jim B's funeral and memorial. I know this because I just found this recording that I am so pleased to share with you. 
This recording, the memorial service of Jim B, is for me, like finding a stash, a baggy of puzzle pieces of AA history. Many of Jimmy B's sponsees speak. The meeting's chair is Al, 21 days from his 41st sober anniversary. It's 1974, minus 41 years of sobriety, that equals... oh my: Al got sober in 1933. Al was sober longer than Bill Wilson!
Rosa Burwell, his widow was there of course. She has the distinction of being the first Southern California female delegate to the General Service Conference of Alcoholics Anonymous. 
Marge was only the second female California delegate; she was 11 years sober at the memorial and remembers being at Jim's 25-year celebration, early in her sobriety. 
Roy recalls Jim bringing AA to Philadelphia. We will hear in this recording, just months before this memorial, a telegram would be received, informing Rosa and Jim that 1,150 AA members celebrated the anniversary of the group Jim B started in Philly. The telegram boasted that they could have sold 1,000 more tickets if they had room for them all.
Eunice knew Jim from AA in Washington, saw him next, years later, reading the Steps in a meeting in San Diego. Eunice and Rosa became the best of friends. 
Sybil C got sober in LA March 21, 1941, the first AA woman West of the Mississippi River. From the lectern, Sybil shared about an early AA play about the 12 step program (Jackie B, did you already know this?!? Jackie's written a play about AA history that features Sybil prominently). As the story is told by Sybil, the LA play featured an unabashed atheist from formative New York AA. During a local performance, Sybil will recall on this recording, she sneaked Jim B into the wings to come on stage, playing himself before an unsuspecting audience. The place went wild with enthusiasm. 
I just found this Jim B recording on a hard drive, by accident. What I was looking for were some documents for 2022 writing projects.  I am undertaking a brand-new book that looks at the plethora of 21st century recovery options. Concurrently, I am doing some updates for a third printing of Beyond Belief: Agnostic Musings for 12 Step Life with a new Preface and a hard-cover print option. I am thinking and talking about translating Beyond Belief. So no, I had no plans for, nor sense of urgency for a new podcast when I sat down at my desk, however many hours ago that is now.
Other writers will relate. When wrestling with the seemingly overwhelming weight of starting to write and keeping at it, any distraction will do—if fact the distraction always appears relevant and urgent, at the time. This Jimmy B recording was just such a distraction. At the time of writing this, it is 3:47 AM and seven or eight or nine hours since I was searching in earnest for files pertaining to my planned writing. Joe makes plans; And the muse laughs. Ha, ha, ha. Ernie Kurtz would describe being a person with addiction this way, "We must thirst; where will I direct that thirst?"
I do not remember who gave me this recording I found today; if you are out there reading this blog, and you sent it to me, "Thank you and sorry I forgot all about it until now." If you would be so kind to reveal yourself to me, I will happily give credit as—I must say—credit is due. This recording is amazing. 
To Arlene, my new friend from Zoom secular AA, sober since 1969, who was a member at Mission Hills group, that Jim and Rosa B attended. Where you at this memorial, Arlene? Tell me more; tell me more. (see below, Thanks Arlene)
To my fellow historians, if you have more details about this cast of characters appearing in this recording, I am listening; do tell.
If any of you are unfamiliar with this recording, I hope it helps fill your AA history puzzle. Let me know. It was very hard to listen to. I imported it into my editing suit and cleaned up the recording to the best of my ability. This is 1970s reel to reel audio tape, converted to cassette, left in a pile somewhere, until being converted to a compact disc wav file and then to the mp3 I have here. I have tweaked what I can. While the recorded content and quality of this blog/podcast will not change; this commentary you are reading is a work-in-progress, a living document. Any insights and additions, from anyone out there, would be much appreciated. 
Jim B died September 8th, 1974, and I did not—I could have died. Asphyxiation from one's own vomit is and has been "Game Over" for some of my music heroes and uncounted fellow addicts that we never got a chance to know. So, I dodged a bullet; another bullet as the story goes, with more shots in the dark to come.
My mother's 34th birthday was the next day, just as it was every September 9th of her life. I wasn't thinking much about that. Mom was a few months sober, September of 1974, not something I paid much attention to, either. I had been invited to go to Alateen, during my mother's AA pink-cloud phase... Yeah right, as if!
I wasn't impressed by my mother's suggestion that maybe I should try an AA meeting. It was just another in a series of lectures of how to run my life. What would a 34-year-old lady know about young people?!? "I hope I die before I get old!" As a ploy, just to get her to shut up already, I said, "Okay; if it's such a big deal for you, I'll go to a stupid meeting!"
Art picked me up Tuesday night and we both chain-smoked on our way to the Veteran's hospital for my first meeting. We continued smoking through the meeting. I was not all that impressed. Right now, I would love to say the spirit of Jim jumped into my body or something like that (figuratively of course) and I was struck sober to carry the sobriety torch, handed off from him to me. Alas, I had a few more near-death experiences some of which would land me back in this same hospital, before I got sober, a couple of years later. The larger picture is that many people were dying or almost dying that same day, in hospitals and gutters around the world. Jim B and Joe C's stories aren't bound together any more than the days accounting of people dying or nearly dying, some "with" alcohol use disorder, some, fatally "from" alcohol use disorder.
Jim B's story "The Vicious Cycle" wasn't included in the first edition of Alcoholics Anonymous. To the hundreds or thousands that would owe their sobriety—in part—to Jim B, it felt like the record was being set straight when Jim's story was added to our Big Book's Second Edition in 1955. "A Vicious Cycle" remains in today's Fourth Edition.
In the 1968 AA Grapevine, 30 years sober, Jim tells his side of the story - first written about him, not by him in the book, Alcoholics Anonymous: 
"...the early meetings were quite religious, in both New York and Akron. There was always a Bible on hand, and the concept of God was all biblical. Into this fairly peaceful picture came I, their first self-proclaimed atheist, completely against all religions and conventions. I was the captain of my own ship (The only trouble was my ship was completely disabled and rudderless.) So naturally I started fighting nearly all the things Bill and the others stood for, especially religion, the 'God bit.' But I did want to stay sober, and I did love the understanding Fellowship. So I became quite a problem to that early group, with my constant haranguing against all spiritual angles." 
Jim never started believing (in anything supernatural) but he did stop fighting. And in this 30-years-of-sobriety address, he offers to others on our recovery journey, his experience of secular AA sobriety:
"The AA fellowship became my Higher Power for the first two years. Gradually, I came to believe that God and Good were synonymous and were found in all of us. And I found that meditating and trying to tune into my better self for guidance and answers became more comfortable and steady. © A.A. Grapevine, Inc. (May 1968)" 
Enjoy this trip down history's memory lane and anyone with further insights... call me :-).
For me, personally, this was the "life during wartime" phase of my addiction. This has been a heightened time of reflection for me, since this recording took me on an unexpected detour from my plans for the day.
Looking back now, I didn't share any appreciation for the doctor who dealt with my stinky unconscious body, suffering from self-inflicted life-threatening wounds. He saved my life and I treated him like an inconvenience. I never looked up the Zamboni driver to thank him for his role in saving my life and cleaning up after me; I was too ashamed and embarrassed. What was Art getting out of taking this punk-ass kid to his regular meeting with his World War II veteran fellows. I never asked him about his story, his war trauma, how he came to AA or anything about him. I didn't want to go to the meeting, I was embarrassed to be in his company and I just wanted the day to be over.
I certainly don't remember thanking my mother for picking me up from the hospital or expressing regret for her being awoken to, "Mrs. so-and-so? This is Lakeshore General Hospital calling. Do you have a son named Joe?" I don't know and don't have any memory of her birthday on the Sunday; did I say, "Happy Birthday mom; I really appreciate you." I am quite sure I was quite self-absorbed.
I couldn't see kind acts, I saw these people as obstacles, as people who did not understand and witnesses to what felt to me like humiliation. I certainly did not appreciate the gravity of my situation or my role in my misfortune. I didn't identify as an "alcoholic." I saw myself as a victim of a series of bad breaks and serious misunderstandings. I expect they are all dead now. All I can do, is to hope that I can remember to pay it forward.
People who need love the most, deserve it the least.
I am a bad example, or a sample, of how true this expression is. Will I be ready for the next person who needs love the most and deserves it the least. I hope so.
That's my story of common suffering as it was unfolding, September of 1994, at least a snapshot of my story. And this recording, from two Provinces and ten states away, three time zones and 4,668 km (2,900 miles) South and West of my tale, is another snapshot of our kinship of common suffering. I was no poster-child that "recovery is possible" in 1974. The Jim Burwell Memorial recording is a case history of how recovery is possible, and it's also contagious.