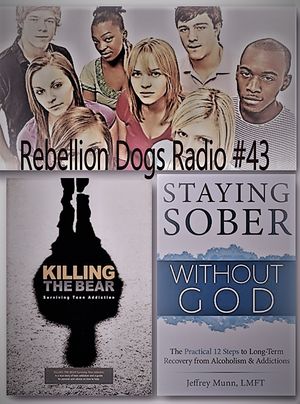 Episode 43 of Rebellion Dogs Radio says: Relieve the February Blues with February Twos, February 2019's books of interest and subject matter for this episode:
Killing The Bear: Surviving Teen Addiction by M. Andrew Tennison
Staying Sober Without God: The Practical 12 Steps to Long-Term Recovery from Alcoholism & Addiction by Jeffrey Munn
Click to find out more about the band Sleepless Nights - This band brought us the finale song, "Kids on Drugs."
And our mid-way song by Tokyo Taboo has a dark side of addiction pang to it that  we are sure you're recognize in the song: "No Pleasure Only Pain." "
We talk in this Episode about Rebellion Dogs most recent contribution to TheFix.com, "Is AA Too Religious for Generation-Z?" Click to read