Episode 47 of Rebellion Dogs - a YouTube version of the NAADAC 2018 Annual Conference (October 7, in Houston) presentation: No God? No Problem! Meeting the growing demand for a secular view to Twelve Step Facilitation.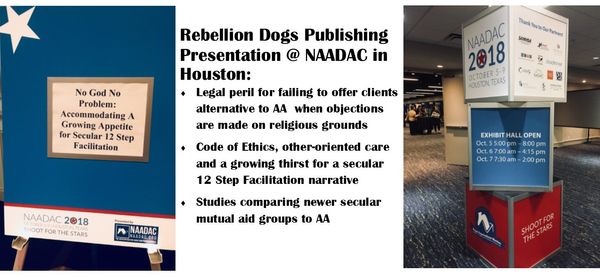 What is the legal peril for Employee Assistance Personnel, Treatment Therapists and Parole Officers who say, "AA is spiritual not religious," when an irreligious client objects to praying to a higher power?
How does the NAADAC Ethics Code other-oriented care standard get tested when and addict says, "I don't want to go to AA (or NA, etc); it's too religious"? 
With the growing demand for a secular view to Twelve Step Facilitation resulting from a less religious generation, what resources are there in mutual-aid to meet this growing need for recovery without prayer or God-talk?
I whip through a lot of slides (and add a song) in just over an hour. If you're really interested in this topic you might want to download and read the slides again at your own pace. If you're a NAADAC member, you can access the slides at NAADAC.org If not, email Joe at news AT rebelliondogspublishing dot com
This is a review of a presentation I gave in Houston Texas October 7, 2018 at the NAADAC (National Association of Addiction Treatment Professionals) delegates. We look at some legal & human rights cases that will test "Is AA religious?" And if it is, would pressuring a non-theist to attend when they object to all the God-talk be willful-blindness, unethical or would it violate First Amendment Rights in the USA or Human Rights according to the Human Rights Code in Canada? We'll look at some other cases that have settled and what the consequences were.
It's not all fire-and-brimstone. The peer-to-peer community has already accommodated a rising appetite for secular sobriety inside AA and newer fellowships, too. There has never been a better time for AA-sans-God.
This presentation was well received by addiction professionals, policy makes, academics and corrections personnel from around the world. NAADAC's Code of Ethics was revised in 2016. If it wasn't in reaction to recent court orders for treatment facilities to compensate nonbelievers in the treatment infrastructure, these changes certainly help prevent ethical and legal peril for today's practicioner.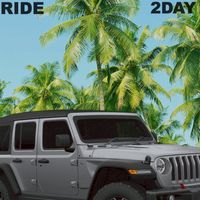 Our feature artist/song this episode is the song Ride by 2Day. Rising up from the addiction and poverty of East-Toronto life, 2Day found a way out through music.
I meant to get this YouTube video posted ten months ago. I just kept finding other content that I though deserved attention. Not the least of which was the first post-NAADAC 2019 podcast featuring fellow presenter, Dr. Laura Walsh (ADHD), Letter to My Mother art exhibitor, Branislav Jankic, The new CEO and president of Women for Sobriety, Adrienne Miller and singer-songwriter John McAndrew who is the Recovery Music Specialist at Cumberland Heights in Nashville Tennessee – which offers both in and out patient drug and alcohol treatment. CHECK THAT SHOW OUT HERE
Come back for more links and more show notes sometime before August 15th.