Let's start with a question? What is the health of the 12-Step movement, today? What is the future for the 12-Step movement? Let's be honest and ask ourselves, "Do I self-indulge in the more thrilling leaning over one side of the boat or the other?": "AA is letting go of it's core message (too chaotic)" or "AA is stuck in the past and becoming irrelevant (to rigid)". Either way, I am sure you are one of the good gals, just trying to warn others, "Our Titanic is iceberg bound—stop acting like everything is fine."

If I sound like I am finger-pointing, I am not accusing anyone of anything I am not guilty of, myself. Worry is my nicotine. It gives me an endorphin shot every once in a while and staves off whatever I'm semi-consciously trying to stave off, likely boredom or existential angst. So I know what it is to embrace impending doom. However I also know what it is to embrace being wrong, too—and that's quite liberating if you've never tried it.

Meet two 12-Stepers who you will love if you're a lover or fight with if you're a fighter. Everyone gets what they are looking for on Episode 19 of Rebellion Dogs Radio.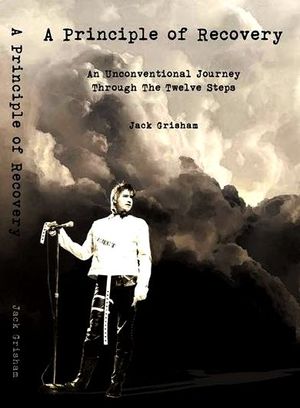 Jack is a punk-rocker turned foul-mouth seeker of clean and sober spirituality. He has a new book called, A Principle of Recovery – An Unconventional Journey Through the Twelve Steps. He doesn't believe in a prayer answering deity but if you're a member of AA-atheist lonely hearts club band, you might find Jack's use of biblical language hard to embrace. If you're a born-again booker you might think you've found an ally to quote from, only to be shocked with Jack's off-script interpretations of sponsorship or surrender.

Now on the other hand, if you want to dip your toe into 12-Step modality and you still want to think for yourself, we have something for you in this episode. If you find yourself reluctant to embrace someone else's values and refusing to deny your own beliefs, you might find a liberating idea or two or three within the two and a half decades of Jack's unconventional journey with his fellows through 12-Step life.

Now, meet Richard; he's a poet, a comedian and a modern day 12-Step beatnik.  In the last episode of Rebellion Dogs Radio, I offered a few minutes of his one-man-show, Sober but never Clean. Today, yes, we have more from the show but we talk with Richard as well. Richard shares how he went from begrudgingly facing recovery and thinking that comedy would remain in the wreckage of his past. But then he found that his addiction's side-kick had another side of the sword; he could heal and help others heal through the gift of comedy.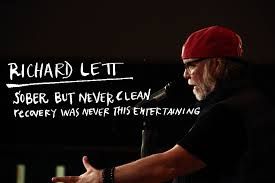 One of the Merriam-Webster definitions of "sober" is, "Showing no excessive or extreme qualities of fancy, emotion, or prejudice." So part of being "Sober but never Clean" means a tightrope walk with ego pulling from the left and false-humility tugging from the right. Richard talks about the constant balancing act of following his calling without falling off a cliff.

Are these two men rebellious examples of self-will-run-riot? I don't think so; I see within both of them an enduring love for the core values of 12-Step lore. In their own unique way, they have reclaimed self-ness and they are reaching out to others. They are each a sample, two voices in the refrain of many voices in recovery who freely offer, "If you want what we have…" These men both are free and they are happy; their attitudes and outlooks have changed, they don't regret their pasts nor do I see signs of the burdens of self-seeking or regret that continue to dog some of us in recovery.

This is classic Rebellion Dogs guerilla radio—all about the content and as for sound quality, we do what we can on a DIY (Do it yourself) budget. Our chat with Jack is over a mobile phone from Toronto to LA. Our discussion with Richard is, while the interview is in-person, as fate would have it, recorded in the infamous room 2-295 of U of T's OISE building where Toronto's Beyond Belief AA group meets. For those who know the room, the ambient rhythm of two intersecting subway tracks below the classroom floor interrupt an otherwise studio-like condition. I always loved what Agent Smith said to Neo in one of their battles on a subway track in the first The Matrix. "Do you hear that, Mr. Anderson? That's the sound of inevitability."  Episode 19 is another great show of friends you haven't met yet and comedy and music you haven't enjoyed yet.

In conclusion, if you fear that our 12-Step culture is going off the deep end or is grounded and impotent, maybe you're right. On the other hand, maybe you don't know Richard and you don't know Jack. Enjoy Episode 19 of Rebellion Dogs Radio and we'll talk some more, afterwards.
LINKS:

Buy or preview Jack Grisham's A Principle of Recovery

Richard Lett's Sober but Never Clean on Soundcloud for free. Support his recovery pilgrimage HERE