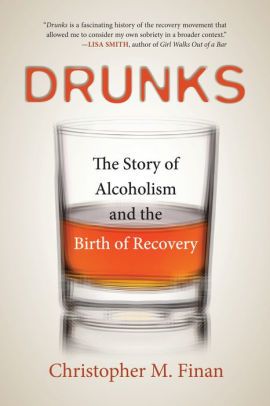 In the book, Drunks: The History of Alcoholism and Birth of Recovery, Christopher Finan recounts America's history of alcoholism which dates back to the first days of settlers and indigenous peoples sharing cultures and goods. America's search for sobriety  began among Native Americans in the colonial period, when liquor was used to cheat them of their property. We meet the first of a colorful cast of characters, a remarkable Iroquois leader named Handsome Lake, who dedicated his life to helping his people renounce hard liquor. Carrie Nation, the wife of an alcoholic, destroyed bars with an axe in her anger over what alcohol had done to her family, as well as the idealistic and energetic Washingtonians.
There's a gold-cure, a signatory of the Declaration of Independence who was the first doctor to advance the idea of inebriates suffering from a disease - not a moral failing nor demon possession. From Handsome Lake to Benjamin Rush to Marty Mann, then William L White, to alcoholism's freedom-fighters today, Chris M Finan has created the heroes journeys this is our heritage - not a mere chronology of wet and dry facts.
Technically, you'll notice our Chris Finan interview has some background noise. Sorry Chris: sorry listeners. We've done what we can to mitigate the annoyance. Can we recommend tea during the listening over coffee to reduce aggravation. Hang in, we assure you that the message quality trumps the medium shortcomings. If not, next coffee is on Joe C. We'll try to be better in the future.
This is a good 'dry run' for Rebellion Dogs as we gear up for AA History Lover's Symposium February 1-3, in the San Francisco Bay area. CLICK Here for more information on the Symposium. If you're looking for an extended mid-winter getaway, go from AA History Lovers to the International AA Women's Conference the next weekend in Los Angeles. That's what I'd do, if I could. 
For more information on Chris's captivating book, Drunks, CLICK HERE for ChrisFinan.com (audio book, hardcover, paperback, eBook) or contact Chris, he'd be happy to chat online.
The Velveteins is an indie rock band from Edmonton, Alberta, Canada. We go out with their song (to celebrate Recovery - my interpretation) called, "Don't ya Feel Better" Show The Velveteins some love by CLICKING HERE
Want more Chris Finan talking about Drunks? Visit AA Beyond Belief for Chris's chat with John S CLICK HERE
Does the intro or transition music have you're curiosity? Visit Joe C's guitar-slinging @ The Chronicles "Chronic Malcontent" CLICK HERE to stream free