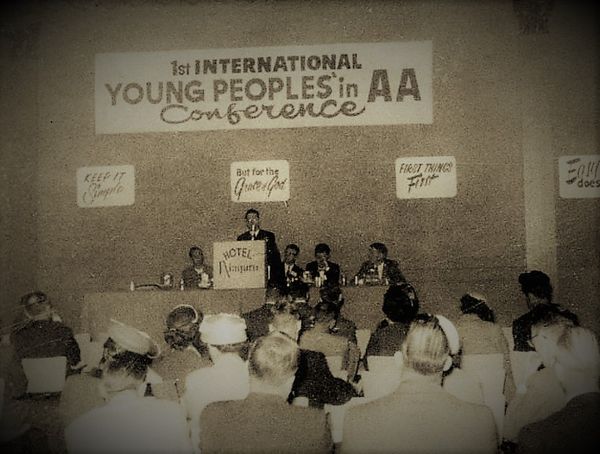 "Suit up and show up!" Who's heard this Circa 1958 AAism? The picture above is from the first International Conference of Young People in AA, Niagara Falls New York, 1958. Is business-wear the best way to represent AA from the podium today? Let's think, think, think about this ritual's potential impact on the future of Alcoholics Anonymous, good bad or indifferent. 
Does wearing formal clothing help our personal self-image and thus, impact how we project ourselves? Do members in evening gowns and suits give the AA gathering credibility with the public? Do suited and skirted AAs at the podium, attract newcomers in ways that casual-wear members can't? 
Is this AAism true for you?: "The newcomer is the most important person in the meeting."
"What if someone here, is at their first AA meeting," is among our considerations when a group conscience sees fit to tell/suggest to each other, how to talk or dress when we chair or speak at an AA meeting. Such discussions are not the prerogative of the group but also a duty. This individuality of our groups is by design, regardless of how structured or spontaneous, how formal or casual, each group chooses to present itself.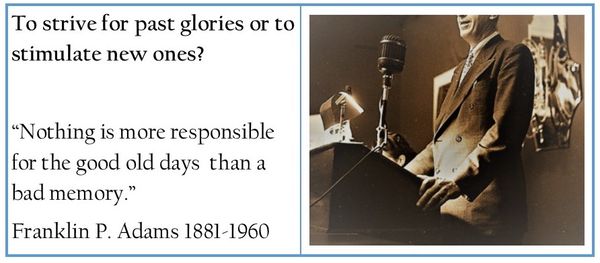 My feeling is that there is a principle embedded in the "suit up and show up," saying that is timeless and noble. But also, the habit is dated and possibly antithetical to attracting new people and coaxing back the good ol' days of a remembered AA that was growing year-over-year, decade after decade. 
Let's remember that in the good ol' days we're talking about included cancer from second hand smoke in AA meetings and driving our kids in cars without seat-belts. 
My self-image does improves when I take care of myself and treat myself well. Even if dressing nicely is the most superficial of self-care, I think pop-psychology or even common-sense concedes that by applying personal hygiene and dressing for success (whatever that means to us), we feel better. Going to the meeting will improve our mood and/or enrich our sober-swagger. I've also adhered to "come as you are," unshaven and in scruffy cloths; I was made to feel welcome. I felt good about being at that meeting, too. 
What I want to explore is if suits and evening wear, worn by speakers at conventions or AA meeting, add value to the new member and/or the long-term health and prospects for AA. My local regional annual AA/Al-Anon/Alateen conference attracts 2,500 to 3,500 annually. This year the Ontario Regional Conference[i] is 76-years-old. When I'm invited to speak, like anyone, appropriate attire is suggested. At our Area 83 Assembly, the Area Committee uniform is suits and ties for men, the equivalent business-wear for women. General service volunteers and others who are presenting over the weekend or standing for an elected position on the biennial election Sunday are almost always suiting up, most likely as coached by the sponsor—or this century-21 label I hear now—"service sponsor." Sporting a $800 sweater and $400 jeans, you may still be unelectable at my Area Assembly.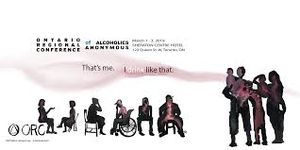 "Suit up and show up" is common in my neck of the AA-woods since I moved to Toronto—the business capital of Canada—in 1985. The purpose of "suit up" then, was to inspire confidence in AA with the public, to make AA sobriety look attractive to the still-suffering alcoholic. Remember the 1980's "dress for success?" Double-breasted jackets and women's pant-suits of the 70s gave way to retro 1950s thin ties and suits and body-glove tube dresses for women. And in 1985, AA was still growing, correlation was assumed to mean causality. It was working because we suited up and showed up. 
AA Growth vs USA 
Population in AA stopped growing in 1991 (according to our own communication between the General Service Office and home groups). We were 2.1 million AAs worldwide in 1991. The USA had 253 million citizens. In 2018 there were 29% more Americans: 327 million. If AA grew by the same 29% we would be 2.83 million members. Yet, our data shows 2,087,840 worldwide AAs (1/2 of our membership is in the USA).   
As TV doctor's would say, "How's that working out for you now?" AA membership is not growing, and our membership is aging. Is the hipster-Tao wardrobe of Refuge Recovery winning over potential AA members? Does the come-as-you-are of SMART Recovery account for their adding numbers while AA wanes? I don't think it's that simple. Many influences of newer offerings—Women for Sobriety, LifeRing, more contemporary 12-Step models like Marijuana Anonymous and Meth Anonymous (just to use the Ms as an example), have a more contemporary vibe. AA's nostalgia-adoring rituals maybe are a contributing factor in our decline in attractiveness with today's newcomers.  
I was invited to speak when I was out of town at an AA group. It was a traditional meeting and as the secretary prepared me in advance with the meeting rituals—what they do and do not like to hear from the podium—appropriate attire was brought up. A couple of things here… Without prompting, I would have showered, combed or tied back my hair and wore something nice, but I wouldn't have worn a suit. I don't work or live in suits, even though I have a fairly professional job. My clients—also professionals—don't wear ties, either.
Still, I think it's just fine for meetings to honor rituals in the autonomous manner to which we've become accustomed and be above reproach from fellow AAs; different strokes for different folks. If my meeting inadvertently make one still-suffering feel awkward, we may inspire hope in another still-suffering. Some in our meeting would prefer your meeting; vive la différence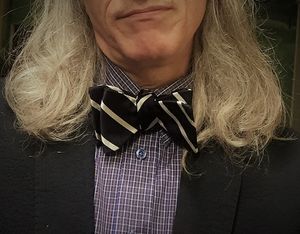 I don't feel controlled or constrained or prejudiced because a meeting secretary makes such a friendly request. Again, I don't think AA ought to be 120,000 uniformed meetings. We are not McDonalds fast-food chain. I don't think AA meetings ought to be uniformed, either in my image nor anyone else's. When I visit your group, I want to both respect group customs and be authentic. 
In part, I dawn the hippy-like hair to say, "I got to be me." Even though I'm a member of the Toronto business world where long-hairs aren't in the majority, authenticity is valued more than insincerity. I don't think that's unusual, today. So, my long hair—in the style that I first presented to the world in the 1970s as an emerging adult, just in this new 50 shades of grey—is how I roll. Maybe I'll change; I have in the past. For a long time, it was quaffed in business-savvy conformity. Maybe you'll see me doing it again if I feel like it. But today, I tend away from actions that suggests I am trying to win the approval of others. I'm not a rebel for rebellion's sake but I don't want to get drawn into establishment trappings mindlessly, either. 
So, I found myself in a foreign city, I'm a guest at someone else's meeting; what do I do to maintain my non-conformity and also be a good guest? Authenticity and amenability are both values I hold. Well, hair down would be less conforming than tight back in a ponytail, so I lose the hair-tie. Secondly a white shirt screams conformity and lack of imagination, so I didn't even pack one. I have long held that bow ties are sassier and a little less playing the game, so a bow tie, and never a clip on. Even in non-conformity, I'm still a cultured gentleman. 
There's still a way to bend the rules or at least, rock the conformity-lite look. I don't want to offend the group's long-time members. I am also mindful of, and hold an affinity for, the member who is wondering, "Realistically, is there a place in AA for me?" I know that feeling. I relate; after all these years, I still know doubt. 
I relate to the group who meets, takes inventory and wants AA to flourish and send a message that there is hope, no matter how far down the road one has gone. I want the same. I just don't know that regurgitating every trick in the good-ol-days book is the right choice for a bright future. Nostalgia serves a mature organization; but a citizenry committed to challenges still to come, adapting to change, or better still, anticipation, offers more assurance for the future. 
Instead of reading, "During the meeting, please silence your mobile devices," will we ever say, "During the meeting, better utilize your mobile devices to help carry the AA message to the alcoholic who still suffers." 
What worked for AA back in the day? That's a useful question. More potent still would be, "What are the needs and expectations of those yet to come?"
Should my home group have a pay-pal account for people who prefer to tap thumbs than dig into pockets?
Should our group have a blog or a podcast?
Are these not the 21st century version of the pamphlet and the basket? 
The AA I was introduced to, ran a public service announcement in the "Personals" section of the Montreal Gazzette and we had a sandwich-board sign just outside the door to our meeting. So, while I can find clues from what worked for AA before, what is today's equivalent of the personals-ad and the sandwich-board? Today, how do we convey AA's message to the public, "If you want to drink and can, that's your business; if you want to quit but can't that's our business—try AA." Few read a newspaper anymore and the people who would have been walking by our sign in the 1970s have their eyes on their screen today. 
Back to the suits, Back to the Future 
In AA, we want to be credible; maybe even respectable. The means to that end: "suit up and show up," is based on an era when you and I found suited business and political leaders credible and respectable. Generation-Z's attitudes might view the same suit on the screen that instilled confidence in us, as untrustworthy—based on the lessons of their informative years. 
Depending who you ask, Generation-Z were born on or after either 1995 or 1999. Since the turn of the century we've talked about Millennials as they took their first key-strokes and crafted their first social media pages. Millennials are Gen-Y and some are turning 35-years-old this year. Older Z-gen youth are turning 20 or 24-years-old in 2019. 
Demographic data is being tweeted about the tastes of a new generation; the World Health Organization is concerned about how youth views should shape policy, The UK Guardian is interested in social implications, Inc.com wants to know what Gen-Z buy and how to market to them. How does The Hunger Games generation feel about the suits who are asking young people to buy their products or vote for their candidates? Survey says: 
"One-in-ten trusts the government to do the right thing. The number among millennials is a slightly rosier 20 percent. … a pathetic six percent of Gen Z trust corporations to do the right thing. The number for adults in general is 60 percent."[ii]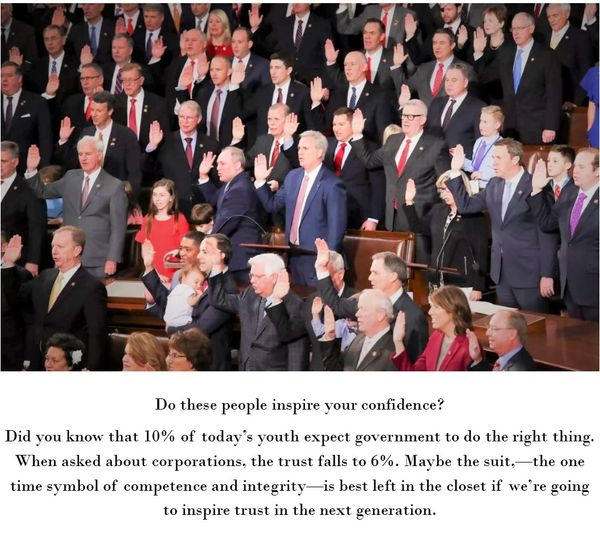 So, does this picture above inspire trust and confidence? Your age, gender, social status and nationality will have a bearing on how you answer this question. Results will vary. 
So if we greet the next generation with the business look, youth, in turn, will greet us with their business reaction, which is opposite of how Baby Boomers feel about suited stewards. Steve Jobs never wore a tie; he understood that this would lose the next-gen of smartphone consumers. 
Also, AA culture struggles to attract underrepresented populations as our race/age/gender stats reveal in P-48, AA Membership Survey[iii]. America and Canada, as is the case in all of the AA world, is multicultural. Will dawning the attire of an Anglo-Saxon cliché build bridges or barriers to cultural minorities? 
Every principle in AA that we embrace is timeless—as Bill W said, "A.A. was not invented! Its basics were brought to us through the experience and wisdom of many great friends. We simply borrowed and adapted their ideas[iv]"—but while we continue our legacy of borrowing from the past, adaptation remains vital to maintaining our relevance and attractiveness. 
Looking at this picture from the 1958 first ICYPAA at the top of this blog, we Americans and Canadians in attendance dressed and acted appropriately for the day. We carried the message; we made AA proud. But how effective would this wardrobe be at the 61st ICYPAA in Boston, September 1, 2019? I haven't been to an International Young People's AA gathering for a couple of decades but, while we respected our past at ICYPAA, we represented AA's future. 
For more on Gen-Z, Rebellion Dogs Publishing recently contributed to TheFix.com[v] as we explore the worldview of youth today and ask if "spiritual-not religious" is a broad enough 12-Step gateway to be relevant to teen alcoholics. Yes, I'm a teen alcoholic; at fourteen, I was brought to my first meeting. AA would eventually work for me. As I turned 20, my fourth clean and sober anniversary was just around the corner. I remember my head going down at meetings when I heard "AA is a fellowship of men and women…" not wanting to draw attention to the fact that, as a teenager, "men and women" didn't include me. AA Grapevine didn't intentionally  dis-include me; much of discrimination is subtle, even below our awareness. Still, all of our rituals, attire, readings and meeting customs, if not reviewed from time to time, may grow ineffective for the new person with substance use disorder who is suffering.
With each ritual or reading, we can ask if this does more to attract or more to alienate. If we're not sure, try new things. AA is always trying new things, isn't it? All par for the course in a daily-inventory peer-to-peer group of common suffering like ours.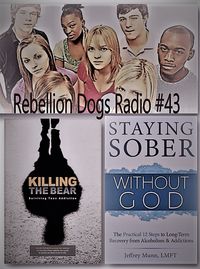 OTHER PEOPLE TALKING ABOUT THE FUTURE: On Episode 43 of Rebellion Dogs Radio we have two authors discussing future trends. M. Andrew Tennson wrote Killing the Bear: Surviving Teen Addiction and addiction and family therapist, Jeffrey Munn speaks to a youth more secular than their parents in Staying Sober Without God: The Practical 12 Steps to Long-Term Recovery from Alcoholism and Addiction. Two tunes, two interviews, commentary, all this in less than an hour of February Twos - to kick the February Blues. CLICK HERE from Rebellion Dogs Radio.
[ii] https://www.inc.com/jessica-stillman/gen-z-is-anxious-distrustful-and-often-downright-miserable-new-poll-reveals.html 
[iii] https://www.aa.org/assets/en_US/p-48_membershipsurvey.pdf 
[iv] Bill W letter 1966